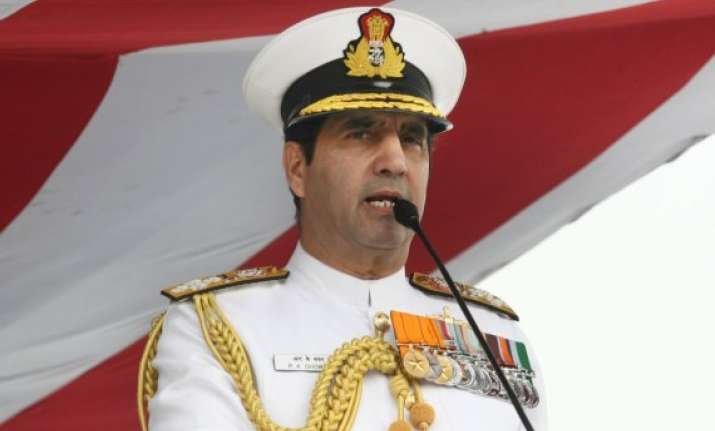 New Delhi: Indian Navy chief Admiral R.K. Dhowan on Thursday said India was "closely monitoring" the activities of the Chinese Navy.
"Chinese naval activities are being closely monitored. Chinese Navy ships have been present in the Indian Ocean since 2008. Some submarines are also there," Dhowan told reporters after the Naval Commander's conference here.
"Our belief is that the responsibility of protecting Indian Ocean and our coastline lies with the navy. Our ships, aircraft carriers are always on alert so that our security is maintained," he said.
He asserted that the Indian Navy was capable of guarding national interests in the Indian Ocean.
Dhowan also downplayed China's white paper on defence that focused on a larger role for the communist country's navy.
"Every navy makes out its plan as to what it is supposed to do... what kind of operations it will engage in," Dhowan said in response to a question on the white paper.
"There would be aspects related to defensive operations, surveillance, and all kinds of operations which spread out during the period of peace and during hostilities. So it is natural for any Navy to have its plans which covers the spectrum of entire operations," he said.
China's white paper on defence, released earlier this week, emphasised on a growing role for the communist nation's navy.
The paper said the Chinese Navy would "gradually shift its focus from defence of offshore waters alone to combining this with protection of the open seas".
It also said China would seek to build itself into a "maritime power".
The navy chief also reviewed the plans for conduct of International Fleet Review scheduled for next year.
Asked if China will be invited for the fleet review, he responded in affirmative. "China has been invited for the fleet review," said Dhowan.