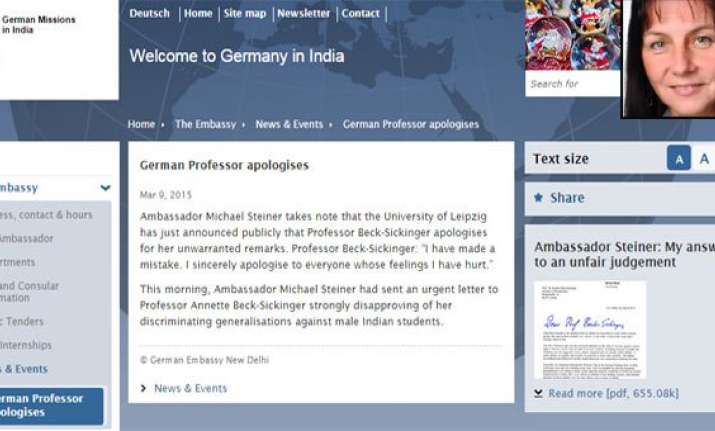 New Delhi: In context of the Indian student turned down by a professor of a German University on grounds of 'rape culture in India', German Ambassador Michael Steiner reacted strongly by condemning the professor's response and endorsing India's efforts to deal with violence against women.
In a letter to Beck-Sickinger - the professor of Leipzig University of Germany who denied the internship through a series of mails, Steiner wrote –
"Your oversimplifying and discriminating generalization is an offense to these women and men ardently committed to furthering women empowerment in India; and it is an offense to millions of law-abiding, tolerant, open-minded and hard-working Indians.
 
"Let's be clear: India is not a country of rapists. I would encourage you to learn more about the diverse, dynamic and fascinating country and the many welcoming and open-minded people of India so that you could connect a simplistic image, which -- in my opinion -- is particularly unsuitable for a professor and teacher," Steiner added.
The letter was made public immediately.
The issue emerged when Beck-Sickinger, a professor of biochemistry and bio-organic chemistry at Leipzig denied internship to an Indian student through an exchange of e-mails posted on Quora citing the reason as India's growing rape culture.
In one of the e-mails she wrote to the student, she said, ""Unfortunately I don't accept any Indian male students for internships. We hear a lot about the rape problem in India which I cannot support. I have many female students in my group, so I think this attitude is something I cannot support."
ALSO READ: Student denied internship with German University due to 'India's rape culture'
The act was strongly condemned on the social platforms like Twitter and Facebook.
By Monday evening, another student came forward to tell the media that Beck-Sickinger had refused his PhD application in March 2014 on similar grounds.
Later, Beck-Sickinger apologized for her deed and posted a statement on the German Embassy website stating, "I have made a mistake. I sincerely apologize to everyone whose feelings I have hurt."
She described the matter as "misunderstanding" and an outcome of an "unpleasant discussion" with the Indian student when contacted by a newspaper daily Hindustan Times.
She said, ""Unfortunately, this mail was a misunderstanding. Of course, I have nothing against male Indians and I have accepted several Indian students in the past. Currently, two male Indian students work in a lab course with me in my labs."
"However, my lab is full and I cannot take any additional student in summer. This led to an unpleasant discussion with one of the Indian student," she added.
She also said that the German University does not discriminate with Indian students and that she has accepted several Indians in her department in past.
The incident took place amidst the strong buzz of two major rape-related incidents, one being the documentary based on Nirbhaya-the December 16, 2012 rape and murder victim, telecast of which is strongly condemned by the global media and other being the lynching of a rape accused in Dimapur, Nagaland.