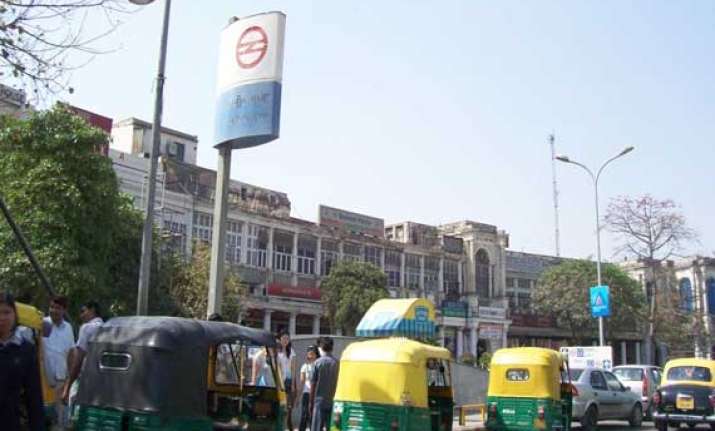 New Delhi, Dec 24:  Chaos ruled busy roads and Metro stations in the capital today as thousands of commuters were stranded at major intersections due to massive traffic jams as several roads and nine Metro stations were shut down to prevent protesters from reaching India Gate and Raisina Hills.
As roads leading to Rajpath and India Gate were closed from all directions and Metro stations in the area became out of bounds for public, commuters waited for public transport
for hours while vehicles got stuck in bumper-to-bumper traffic snarls at several places across the capital.
Nine Metro stations, including the busiest Rajiv Chowk that usually sees a footfall of 5 lakh passengers a day, in central Delhi were shut down, leaving thousands of commuters stranded and at the mercy of auto rickshaws drivers, who fleeced them.
The measures were taken following yesterday's pitched battles at Rajpath and India Gate between police personnel and protesters agitating over the rape of a 23-year-old girl in a moving bus here last Sunday night.
ITO Bridge, one of the major connections in the capital, was clogged with vehicles since morning hours and the chaos only aggravated as the day progressed with people having to wait patiently inside their vehicles for hours.
There was traffic chaos at Pragati Maidan, Nizamuddin Bridge, Shantipath, Chanakyapuri, Mother Teresa Cresent Road, Mathura Road, Khan Market, Mandi House and Barakhamba Road, besides other major sections.
Pragati Maidan, Mandi House, Barakhamba Road, Rajiv Chowk, Patel Chowk, Central Secretariat, Udyog Bhawan, Race Course Road and Khan Market Metro stations were closed. Though inter-change was allowed at Rajiv Chowk and Central Secretariat stations, it was not of much help to the people as stations nearby were also closed.
Closing of entry points to Rajpath and India Gate were the main reason for the mayhem on the roads, which were dotted with men in khaki.
Policemen in large numbers could be seen on all major roads.
Unaware that nine Metro stations would stay shut, hundreds of commuters got a rude shock in the morning, unable to emerge from or enter several metro stations in central Delhi.
Rajiv Chowk Metro station alone sees a footfall of about five lakh commuters a day. Office-goers who routinely use the station found themselves having to get off elsewhere.
However, commuters were allowed to change trains at both Rajiv Chowk and Central Secretariat.
As metro stations were shut Sunday, there was chaos and buses plied at full capacity.
Since Saturday night, eight Metro stations in the heart of the capital were closed to commuters. Later, Pragati Maidan Metro station too was ordered closed, and major roads leading to Rashtrapati Bhavan and India Gate were blocked.
Barricades were placed at Parliament Street, Rajpath and Vijay Chowk in central Delhi where the protestors had been converging over the past week.
Raisina Hill, where the high-security Rashtrapati Bhavan is located, saw massive protests Saturday and Sunday as thousands of furious and determined youngsters marched towards the official residence of the president.