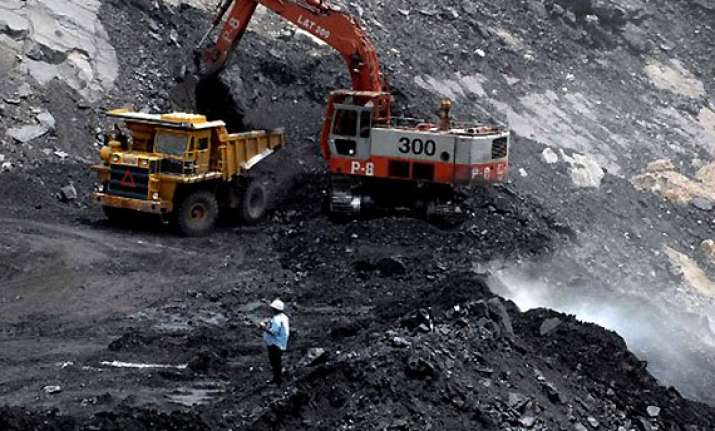 New Delhi, Sept 15: The Inter-Ministerial Group on coal blocks today decided to recommend cancellation of three more mines, taking the total number of blocks suggested for cancellation due to insufficient progress to seven. 
"The IMG has recommended deallocation of three blocks namely - Gourangdih ABC Coal Block allotted to Himachal EMTA Power Ltd & JSW Steel Ltd, Rawanwara North Coal Block allotted to SKS Ispat and Power Ltd and New Patrapara Coal Block allotted to Bhushan Steel Ltd and others," an official statement today said.
Bhushan Steel was allotted New Patrapara block in Odisha in January, 2006. The block has an extractable reserve of 316.09 million tonnes. It was meant to be used for making sponge iron, which finds application in steel manufacturing.  The blocks also finds mention in the CAG report which had estimated that the company got undue benefit to the tune of Rs 9,338 crore.
"The IMG has recommended deduction of Bank Guarantee (BG) in the cases of Nerad Malegaon Block allotted to Gupta Metaliks & Power Ltd & Gupta Coalfields Ltd, Lohari block allotted to Usha martin Ltd, Radhikapur East coal block allotted to Tata Sponge Iron Ltd & others, and Bijahan Coal Block allotted to Bhushan Ltd," the statement added.  
The IMG has, however, not recommended deduction of BG or deallocation in the cases of Moher and Moher Amlohri Blocks allotted to Sasan Power Ltd and Pachmo Block allotted to Tata Steel Ltd.
On September 13, the IMG had recommended de-allocation of four blocks—Bramhadih Block in Jharkhand allocated to Castron Mining Ltd in 1996, Chinora and Warora (southern part) blocks in Maharashtra given to Fieldmining and Ispat Ltd in 2003, Lalgarh (North) block in Jharkhand allotted to DOMCO Smokeless Fuels Pvt Ltd in 2005.
The panel has so far scrutinised the replies furnished by 18 coal block allottees, including four today, in its three meeting in the last four days. It would meet again on Monday.  The recommendations of the Inter-Ministerial Group (IMG) will have to be accepted by the Coal Ministry.  
The IMG had earlier heard the coal block allocates who were invited to make presentations from September 6-8, 2012, and also obtained updated status paper from Coal Controller/Ministry of Coal.
The IMG is scrutinising 29 blocks awarded to private firms out of the total 58 which were given show-cause notices for delays in developing mines.
Last evening, the panel had recommended cancellation of Gouganrdih ABC mine, given jointly to JSW Steel and Himachal EMTA, in 2009, according to sources.
Some of the blocks recommended for de-allocation find mention in the CAG report, which had recently estimated that undue benefits to the tune of Rs 1.86 lakh crore have been accrued to private firms due to allocation of 57 mines without auction.