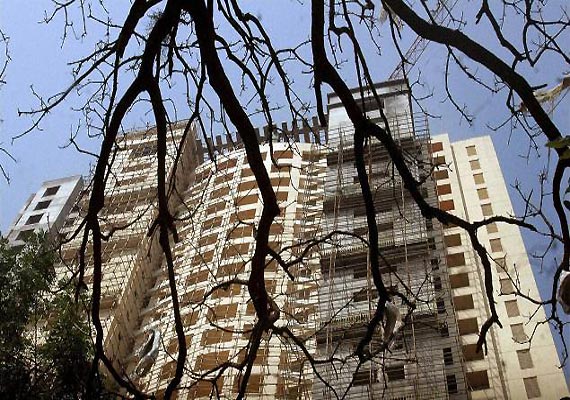 Mumbai, Mar 21: Cracking down on the accused in the Adarsh Housing Society scam, a senior IAS officer in the Maharashtra government and two former Major Generals of the Army were arrested by the CBI today for their alleged role in the irregularities.
With today's arrest, the number of people in CBI custody in connection with multi-crore rupee scam has gone up to seven.
The arrests came before tomorrow's hearing in the Bombay High Court which has pulled up the investigating agency for its lackadaisical approach in the case.
Vyas, a 1989-batch IAS officer from Maharashtra cadre, was arrested here from his residence after the CBI received a sanction from Department of Personnel.
48-year-old Vyas is at present working as Secretary, Expenditure Department of Finance in Maharashtra government.  
According to the CBI case, Vyas, during his tenure as collector from August 2002 to May 2005, allegedly connived with the other accused persons of Adarsh society and accepted false documents as proof of income and granted membership to those persons who were not eligible.
Vyas's wife Seema Vyas was allotted a flat in return for the favour, the CBI has alleged in its FIR.  
Ahead of Vyas's arrest, the CBI nabbed two Major Generals—A R Kumar and T K Kaul.
While Kumar was arrested from Hyderabad and was being brought to Mumbai on a transit remand, Kaul was called from Nashik and placed under arrest.  
Kumar and Kaul are alleged by the agency of misusing their official position and fraudulently and illegally issuing No Objection Certificates (NOC) to the collector of Mumbai for development of the land.
CBI had yesterday arrested four persons - former Defence Estates Officer and secretary of Adarsh R C Thakur, retired brigadier M M Wanchoo and former Congress MLC Kanhaiyalal Gidwani, both chief promoters of the society, and retired deputy secretary of state Urban Development Department P V Deshmukh.
While Thakur, Wanchoo and Dehsmukh were produced before a special CBI court today and remanded to CBI custody till March 31, Gidwani and the three others arrested today would be produced in court tomorrow.
In its remand note, CBI said it needed time to unearth how the accused persons managed to get clearances from state government and other agencies and whether any payments were made besides finding about the benami transactions.  
The land on which the 31-storey Adarsh Housing Society was constructed falls under Coastal Regulatory Zone for which clearance from the Ministry of Environment and Forests is essential, the CBI said.
CBI alleged Deshmukh had misused his official position as Deputy Secretary of the state Urban Development department and issued a letter to the Collector, Mumbai, stating that MoEF has granted a No Objection certificate.
According to CBI, the MoEF had not given any permission but only said permission must be taken from the Maharashtra Coastal Zone Management Authority (MCZMA).  
CBI said the housing society was meant for serving and retired defence personnel but at a later stage civilians were also included at the behest of public servants who dealt with the file dealing with the case.
The High Court had in its last hearing slammed the CBI for not acting against the high and the mighty.