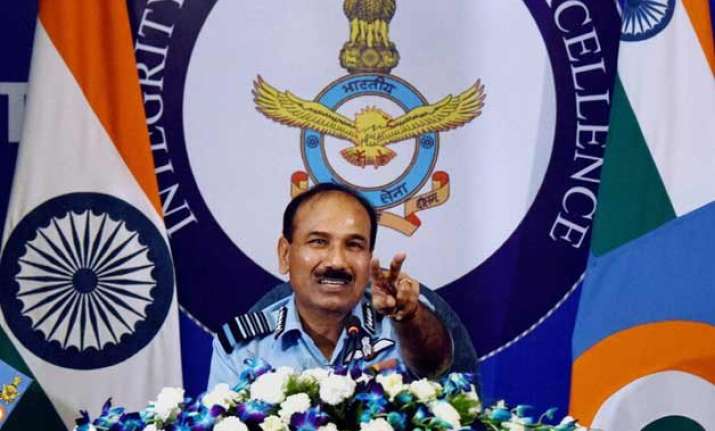 New Delhi: Indian Air Force today said it would need at least six squadrons comprising 108 Rafale or similar jets to shore up its capabilities as it hoped that the contract for 36 French fighter aircraft would be inked by year-end.
Noting that two squadron of 18 Rafale jets each might not be enough, Air Force chief Air Chief Marshal Arup Raha said his force would like to have at least six squadrons of the medium multi-role combat aircraft (MMRCA).
He hinted that even though the Rafale is the front-runner, India may go in for another aircraft with similar capabilities "if the deal is good".
"Definitely, we would like to have MMRCA variety of aircraft. At least about six squadrons to my mind. Let us see, there may be some other alternatives as well," Raha said addressing a press conference ahead of the Air Force Day on October 8.
He was replying to questions about the possibility of India Air Force wanting more than the 36 Rafales under a government to government deal announced by Prime Minister Narendra Modi during his trip to France in April.
Asked if the additional four squadrons of aircraft will be Rafales or if there is a possibility of other players getting into play, Raha said, "I may wish to have Rafale. But there are equally good aircraft. So if the deal is good and the government decides we need to have six of similar squadron...."
"There are alternatives. I cannot say I only want Rafale. I want capability of Rafale type aircraft. So the government will have a look at it and based on urgency and the type of contract is signed with Dassault Aviation, further decisions may be taken by the government. I cannot predict," he said.
Admitting that the IAF is currently "short" in terms of authorised strength of 42 squadrons, Raha said more aircraft are needed to replace many more squadrons in coming years.
 
"The need is there. As Air Force, we will like to have more of these (MMRCA) but it will have to be viable in terms of cost, in terms transfer of technology and in terms of Make in India policy that the government is trying to implement.
"So if those terms and conditions are good, then I am sure we will be able to get more. But as of now we are looking at 36," he said.
With the government cancelling the multi-billion tender for 126 MMRCA, there is renewed hope in the aviation industry that India may go in for fresh bids to fill up the gaps.
From Swedish firm Saab to US' Lockheed Martin and the France's Dassault Aviation, most of the global aircraft manufactures have offered their jets in line with the government's push for 'Make in India'.