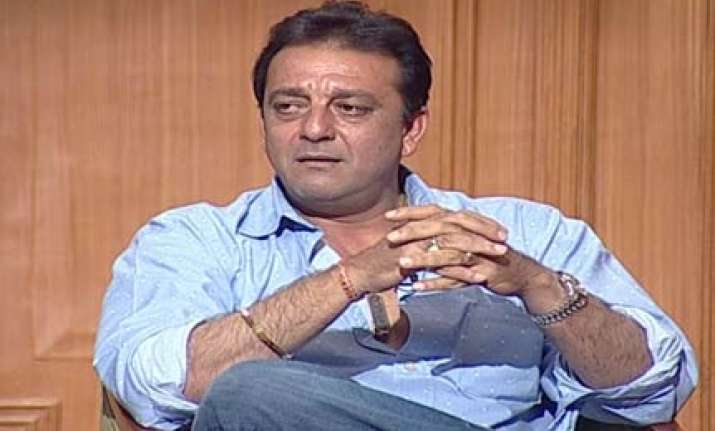 Bollywood star Sanjay Dutt has given clear indication that he is willing to join the Congress if the party invites him. Dutt revealed this while being grilled by Rajat Sharma in his show Aap Ki Adalat to be telecast on India TV.
 
"Congress party runs in the blood of Dutt khandaan(family). Both my Dad and Mom were in the Congress. A time there was when they used to meet Madam (former PM Indira Gandhi) directly. If the party invites me, I am ready to join the Congress", said Dutt whose film Knockout has been released this week.

Asked about his recent meeting with Gujarat chief minister Narendra Modi, Dutt said that he had sought an appointment to meet him in connection with the Surat land issue of one of his friends in the US.
 
Dutt was all praise for Modi and said: "I haven't seen a CM like him (Aisa CM nahin dekha). He is a dynamic  and down-to-earth CM. I can't believe a CM could give three hours of his time to me".
Pressed by Rajat Sharma on the perception about Modi being communal, Dutt said: "I met him because he is a CM and not because of his political party.I had heard he is a nice person".
 
Asked how his intention of joining the Congress could gell with his praise for Modi, Dutt replied: :An artiste can always meet any person". He clarified that his forthcoming film Power (by Raj Kumar Santoshi) was not on politics but an action movie.
 
On politics, Dutt said he was a soft person (soft insaan) and politics was not cut out for him.  "I became afraid of politics, but Amar Singhji will always remain my big brother and our relationship will endure."
 
On Amar Singh's differences with the Bachchan family, Dutt said, it was unfortunate. "Jayaji did not leave the (Samajwadi) party with him. She was like a bhabhi to Amar Singhji.  I've heard he was very much annoyed with her. Anyway whatever happens, there should be no bitterness in relationship. Any relationship is built over a number of  years."
 
Dutt said his only wish now was "azaadi"(freedom). "Mujhe azaadi mil jaye. I have suffered (because of the TADA case) for the last 19 to 20 years. I want I should be acquitted."
 
The actor revealed that he had now become a teetotaller because his wife Maanyata was expecting twins. "I have stopped consuming alcohol,  I've stopped fast driving and going to late night parties. I come home at night early and eat dinner prepared by Maanyata. My wife has changed me a lot".
 
About the prospective twins, Dutt said, he doesn't know whether they would be boys or girls. "So I am unable to buy clothes and things for them. If they are boys, I have to buy blue, if they are girls, it has to be pink."
 
The actor showed the number of tattoos he had on his body to the audience in Aap Ki Adalat. Sanjay has a tattoo on his left chest with the names Sunil (in Hindi) and Nargis (in Urdu), Om Namah Shivay on his left shoulder,  a dragon on his right shoulder, and Maanyata's name tattooed on his left arm.
 
There was an emotional moment during the show when a female fan hugged Sanjay saying she had been keeping regular fasts for the last 17 years praying for his acquittal. The lady alongwith her family members gave several gifts to the Bollywood actor.
 
DON'T MISS Aap Ki Adalat with Sanjay Dutt to be telecast on India TV on Saturday (Oct 16) at 10 pm and  on Sunday (Oct 17)   at 10 am and 10 pm.