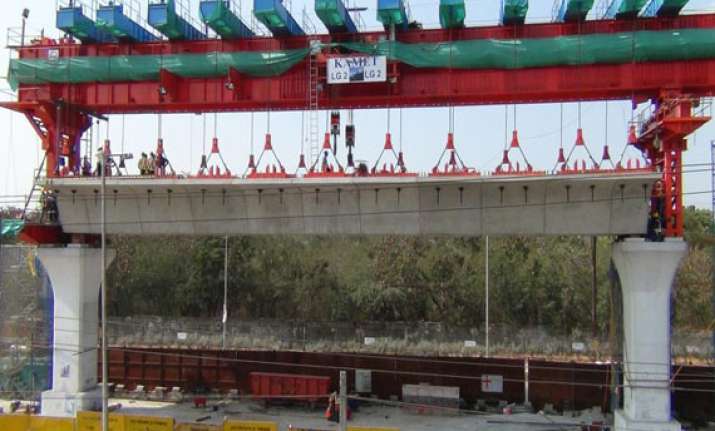 Hyderabad: Hyderabad Metro Rail (HMR) on Tuesday said that it will construct 200 skywalks which will be linked to various metro stations, on the lines of Bangkok model. HMR Managing Director NVS Reddy told reporters at the sidelines of an event that as many as 200 skywalks (pedestrians elevated walkspace) will be constructed below the metro rail viaduct under the project.
"There are going to be about 200 skywalks as part of the Metro rail project. Today to cross roads in Hyderabad is extremely difficult. These skywalks will be linked to metro railway stations," he said. Apart from integrating skywalks, bus-bays and auto-bays will be constructed beneath the metro rail stations, Reddy said, adding, plantation and other concepts will also be incorporated as part of designing of landscaping in central media under the viaduct of metro rail corridors.
HMR is also planning to have exclusive women metro rail stations besides developing stations catering to youth and farmers, Reddy said. "We are developing youth metro rail station at Yousufguda and two 'Rythu Bazar' stations at Bharat Nagar and near Secunderabad Monda market. We will recreate village models at Miyapur and Uppal depots. Through metro service, we want to re-design Hyderabad as a people-friendly city," he added.
The elevated Metro rail project, executed by L&T, will cover a total distance of 72 km with three corridors comprising 66 stations. The first phase is scheduled to start in March 2015. On extending the length of the metro train project to 200 km, the HMR official said that studies have commenced in this regard in a phased manner. A chief engineer of the HMR said skywalks developed on the lines of the ones in Bangkok will be connected to schools, hospitals, government buildings, commercial establishments, shopping complexes, and malls.
Meanwhile, HMR during the event presented cash awards to the winners of the design competition on planning and designing of landscaping in central media under the viaduct of Hyderabad Metro Rail corridors.