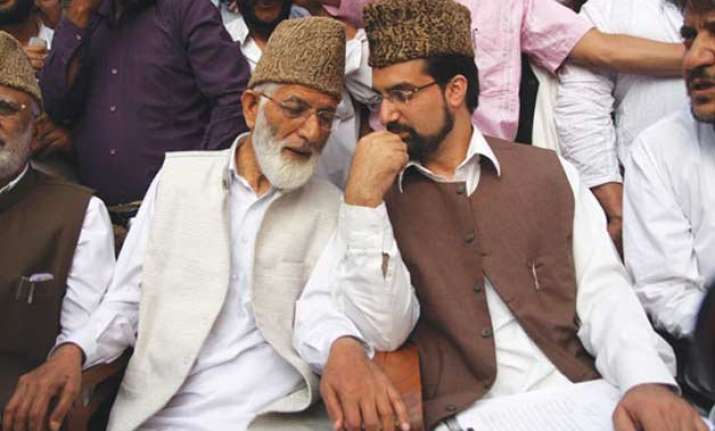 Srinagar: All Kashmiri Separatist leaders except Syed Ali Shah Geelani, who were placed under house arrest today , have been released.
Top Kashmiri separatist leaders, including Syed Ali Shah Geelani and Mirwaiz Umer Farooq, were today put under house arrest ahead of their proposed meeting with Pakistani National Security Advisor Sartaj Aziz in Delhi on Sunday.
Early this morning, police put restrictions on the movement of the several separatist leaders including moderate Hurriyat Chief Mirwaiz Umar Farooq, Maulana Mohammad Abbas Ansari, Mohammad Ashraf Sehrai, Shabir Ahmad Shah and Ayaz Akbar.
Security personnel were deployed outside the Hydrepora residence of Geelani, the hardline Hurriyat chief who is already under house arrest. JKLF Chairman Mohammad Yasin Malik was taken into preventive custody from his Maisuma residence and lodged at police station Kothibagh.
Officials were tightlipped on the reason for the detention but there was speculation that it could have been done to give a message to Pakistan that its engagement with separatists leaders was not welcome, especially at a time when their National Security Advisors are to meet.
But, in a U-turn the authorities lifted the curbs on the leaders, again without giving any reason.
"All the separatist leaders, who were detained or put under house arrest this morning, have been released," a top police official said on the condition of anonymity.
However, Akbar, who is spokesman of the hardline faction of Hurriyat, said while other leaders were released, Geelani was still under house arrest.
"We are unable to make out the purpose behind putting the leadership under house arrest and then releasing them within two hours. All we can say that it is unfortunate," Akbar told PTI soon after his release.
Police conducted early morning raids to detain the second rung separatist leaders also but they too were halted.
Hurriyat leaders' detention and subsequent release have invited both criticism and mockery.
Former state chief minister Omar Abdullah, took swipe at both central and state governments calling the episode "bizarre".
"The only word that describes all this - bizarre!!!!!! Playing out in Kashmir - confusion, pure & simple unadulterated confusion (sic)," Omar tweeted.
"Why? No absence of coordination - centre say arrest so arrested, centre says release so released.Perfect coordination (sic)," he added.
Playing out in Kashmir - confusion, pure & simple unadulterated confusion.
— Omar Abdullah (@abdullah_omar) August 20, 2015
Meanwhile, India is preparing a detailed dossier on recent acts of terror sponsored by Pakistan.
The dossier is being prepared by National Security Advisor Ajit Doval in consultations with intelligence services and the Ministry of Home Affairs.
India will hand over to Pakistan a list of 60 fugitives who have taken shelter in that country besides dismissing comparison between Samjhauta Express blast and Mumbai terror attack citing the role of state actors in the latter incident.
Deportation of Dawood Ibrahim and speedy trial in 26/11 Mumbai terror attack case are some of the key issues to be raised by National Security Adviser (NSA) Ajit Doval with his counterpart Sartaj Aziz during the talks next week, the sources were quoted as saying to PTI.
All suspects in the Samjhauta case, including Swami Assemananda, are in jail and the trial is on track, the sources said.
On the other hand, the trial in 26/11 case in Pakistani is going nowhere and all prime accused, including LeT commander Zakiur Rehman Lakhvi, are roaming freely.
Pakistan High Commission in Delhi has invited Geelani for a meeting on August 24 with Aziz, who will be in the national capital for talks with Indian NSA Ajit Doval.
Moderate separatist leaders have also been invited for a reception being hosted by the High Commission in New Delhi for the visiting Pakistani official on August 23.
India had cancelled Foreign Secretary-level talks with Pakistan in August last year after its envoy invited separatist leaders for consultations ahead of the meeting in Islamabad.
(With PTI Inputs)