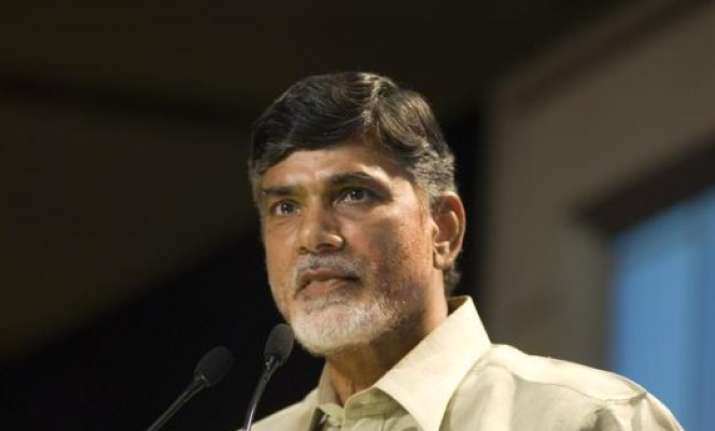 Visakhapatnam: Andhra Pradesh Chief Minister N Chandrababu Naidu today expressed "partial satisfaction" over the efforts undertaken by administration in the three districts hit by cyclone Hudhud along the Andhra coast last Sunday.
Naidu, who stayed put in this port city after the severe cyclonic storm struck, operated from a bus from where he coordinated and monitored the relief and rescue operations.
"I am leaving Visakhapatnam today after a seven-day stay with some satisfaction, but not in full. After attending some important programmes in Hyderabad and other places, I will come again to the city to monitor the situation after two days," said Naidu.  He praised the administration in Visakhapatnam, Vizianagaram and Srikakulam districts for their efforts in restoring normalcy in the aftermath of the cyclone and also the rescue teams from different places, including from other states, for their "best efforts".
Naidu told reporters that he will participate in a candle light rally to be held on October 23 at Ramkrishna beach in Visakhapatnam "to instill confidence among citizens".  He appealed to people to celebrate upcoming Diwali by lighting lamps only.
Naidu also asked the ration shop dealers to cooperate with the government in providing essential commodities like rice as per the package announced by the government for the benefit of cyclone victims.
Warning dealers against indulging in malpractices, the Chief Minister said, "I will not tolerate if traders indulge in malpractices and it is their responsibility to deliver the items to the victims. I will not hesitate even to arrest the dealers who indulged in malpractices."
In the immediate aftermath of the cyclone, citizens of Vizag were hit by the shortage of essential commodities, apparently due to slow reaction time of various agencies concerned in undertaking necessary measures.
The cyclone claimed 50 lives and caused a massive damage in Visakhapatnam, Vizianagaram and Srikakulam districts.Rough estimates put the losses due to the cyclonic storm at Rs 70,000 crores.