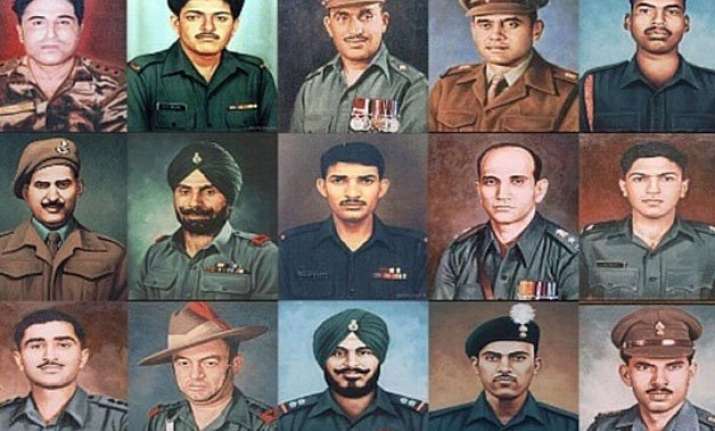 The Men in Uniform guard our borders and spend a major part of their life serving the country. They risk their lives in a bid to save the nation. The least we could do is to understand what the Government does for them. In the context of the Independence Day, we felt it is important to know about the reward extended to the Gallantry Award winners like the Param Vir Chakra etc.
Different Gallantry Awards
Apart from the Civilian honours conferred by the Government, two other categories of awards are given to the men in uniform.
* Gallantry awards
* Non-gallantry awards
The gallantry awards are presented in two different categories
* Those for gallantry in the face of the enemy.
* Those for gallantry other than in the face of the enemy.
The first category of the gallantry awards comprise the following
* Param Vir Chakra (PVC)
* Maha Vir Chakra (MVC)
* Vir Chakra (VrC)
* Sena, Nao Sena and Vayu Sena Medal (SM)
* Mention in Dispatches
* Chiefs of Staff Commendation Card
The second category of the gallantry awards comprise the following
* Ashoka Chakra (AC)
* Kirti Chakra (KC)
* Shaurya Chakra (SC)
Award Details
The Central Government extends a cash award for each of these awards apart from various concessions extended by different central government departments. The cash award is in the form of a monthly pension as listed below for each of the different Gallantry awards.

Various central government departments also extend concessions/incentives to the gallantry award winners as listed below.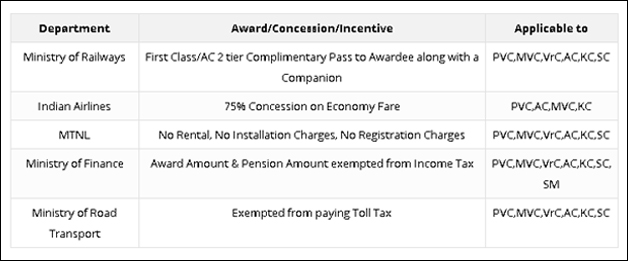 Cash Award by Various State Governments
Various State Governments also extend cash and other incentives to the award winners from their states. State Governments extend the award in three forms
* Cash
* Cash in lieu of Land (CIL)
* Annuity
Different amounts are given by different states. For instance, the cash award for Param Vir Chakra (PVC) ranges from the highest of Rs 31 lakh given by the Haryana Government to the lowest of Rs 22,500 given by Governments of Gujarat, Karnataka, Odisha etc. Meghalaya does not extend any of above three forms of award to any winner.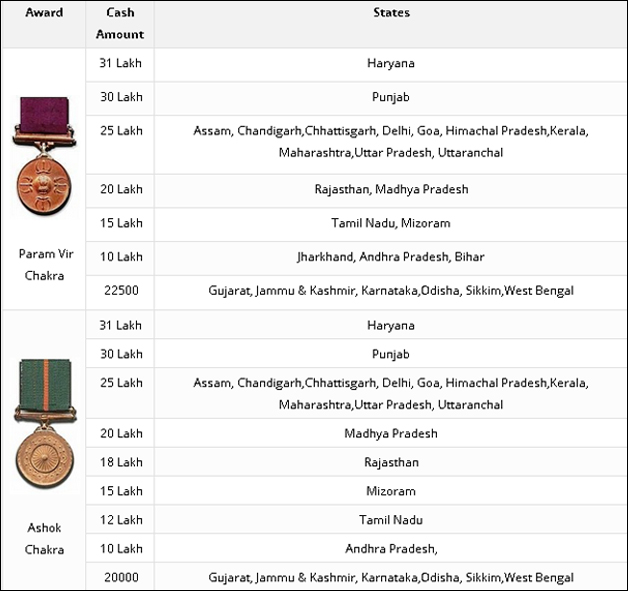 The cash amounts for Param Vir Chakra (PVC) & Ashoka Chakra (AC) are given above. Similarly, different awards are given different amounts of cash by the state governments. For instance, the cash amount extended by the Government of Andhra Pradesh is given below.

Only few states extend CIL & Annuity. Majority of the States only extend a cash amount. It is surprising to note that, Narendra Modi's own state of Gujarat, where he was the Chief Minister for more than 10 years, is at the bottom, when it comes to the cash amount extended to the Gallantry awardees.