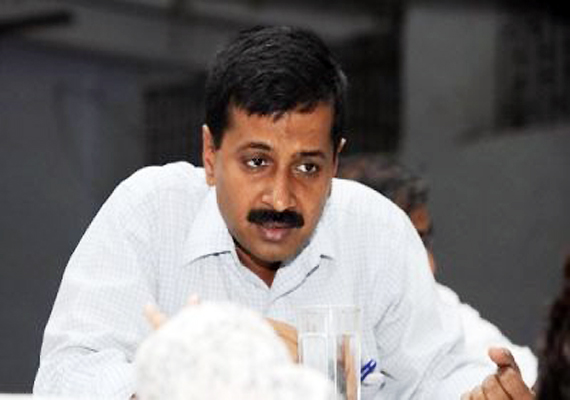 Ghaziabad, Mar 30: Striking a defiant note, Arvind Kejriwal today replied to the privilege notices served on him for "insulting" Parliament, saying how can he respect the institution which has MPs with "criminal background".  
The Team Anna member alleged that all the parties are responsible for bringing Parliament to disrepute as 162 MPs with criminal background have managed to get into it.  
"There was a Parliament in which Lal Bahadur Shastri resigned (from the post of railway minister) following a train accident. I would like to sacrifice anything for such a Parliament but how will I respect Parliament of present days," Kejriwal said in the letter.
He also alleged that industrialists, who were not known for any public service, have managed to get into Parliament with the help of various parties.
"They enter Parliament to further their business interest. If this is not misuse of Parliament, if this is not insult to Parliament then what is it?," he asked.  
Besides Congress MP Sajjan Singh Verma, RJD MPs Rajniti Prasad and Ram Kripal Yadav had served a privilege notice against Kejriwal for calling MPs "rapists, murderers and looters" during an election campaign rally last month.  
The Lok Sabha Secretariat has sought reply from Kejriwal following the receipt of the notices.
"Received privilege notices from Rajniti Prasad and Ram Kripal Yadav also...Rajniti Prasad is the same MP who tore the Lokpal Bil in Parliament. Did he insult Parliament or did I insult Parliament?" Kejriwal had tweeted after he got the notices.
Earlier in September last year, Kejriwal was served a notice for making "derogatory" remarks against Parliamentarians during Hazare's agitation in Ramlila Maidan.  
"In this Parliament, 163 members have cases of heinous offences against them. In this Parliament, rapists are sitting, murderers and looters are sitting. How can you expect Jan Lokpal Bill to be passed by Parliament? How can you expect that you can get reprieve from poverty and corruption," Kejriwal had said on February 25.
Talking to reporters today, Kejriwal also said that Team Anna will soon write to the Prime Minister Manmohan Singh providing evidence against 14 Union Cabinet ministers whom he had named as "corrupt".
Hazare had set a deadline of August to register FIR against these ministers and warned the government that they will launch 'jail bharo' agitation, if it is not done.