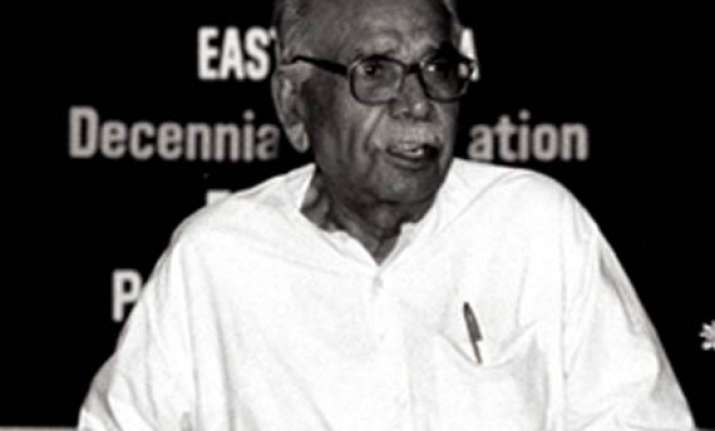 Patna, Aug 21:  Renowned historian Professor Ram Sharan Sharma  died at a private hospital here after prolonged illness, his family sources said today. The 92-years-old historian is survived by his wife and a son.

Sharma was undergoing treatment for various ailments at a private hospital where he breathed his last yesterday, they said.

Chief Minister Nitish Kumar announced a state funeral for the departed historian to be held later today in the state capital at Bansghat on the embankment of river Ganga.
 
Born on November 26, 1919 in Barauni near Begusarai, Bihar , Sharma  was a historian of  Ancient and Early Medieval india. He had taught at  Delhi Uniersity (1973–85) and the University of Toronto and was a senior fellow at School of Oriental and African Studies, University of London.

Sharma was the UGC National Fellow (1958–81) and President of  Indian History Congress  in 1975. He was the founding Chairman of  Indian Council of Historical Research.

Sharma wrote  115 books  published in fifteen languages. As head of the departments of History at  Patna and Delhi University, as ICHR chairman and, above all, as a practising historian he had been influencing major decisions relating to historical research in India.
 
In his youth he came in contact with peasant leaders like Karyanand Sharma and Swami Sahajanand  Saraswati and scholars like Rahul Sankrityayan and  he later came closer to left ideology.
 
He passed matriculation in 1937 and joined  Patna College, where he studied for six years from intermediate to postgraduate classes.  He did his Ph.D. from London University  under Prof  A L Basham.  He taught at colleges in  Arrah and Bhagalpur before coming to  Patna College in 1946. ] He became the head of the Department of History at Patna University from 1958-1973.

In contrast to his predecessors who had focussed their attention on the study of higher orders, he published his Sudras in Ancient India as early as 1958 and examined the relationship of the lower social orders with the means of production from the Vedic Age upto the Gupta period.
 
Sharma's researches cover the whole range of early Indian history and are largely summarized in his popular textbook Ancient India (1977) written for  NCERT.  When this book was withdrawn under pressure of obscurantist elements he launched an attack on them in his In Defence of "Ancient India" (1979) and the book was subsequently restored.