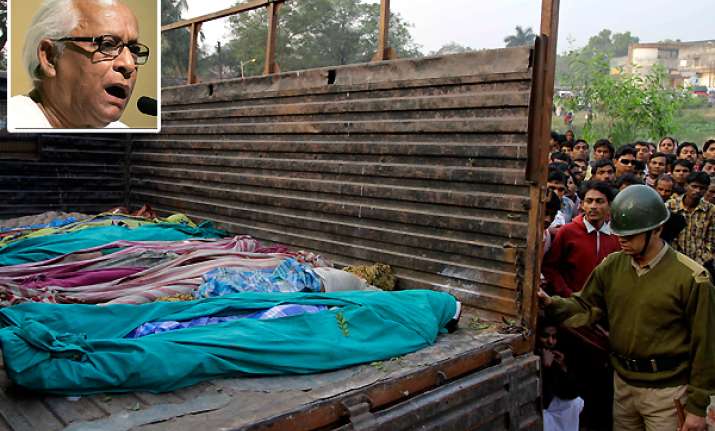 Krishnagar (WB), Dec 19: The high number of hooch casualties in West Bengal's South 24-Parganas district could have been averted if there was proper and timely arrangement of doctors, medicines and ambulances, former Chief Minister Buddhadeb Bhattacharjee said on Sunday.

Most of the people were very poor and died without any sort of treatment, as hospitals lacked adequate medicines and doctors, Bhattacharjee alleged at a rally here.

173 people died after consuming illicit toxic brew in the Usti police station area in South 24-Parganas district in the worst-ever hooch tragedy in the state.

Turning the spotlight on the Trinamool-led government's performance in the six months it has been in power, he said it had failed to chart a road map on health, electricity, agriculture and roads.

He attributed the deepening power crisis in the state to the government's "inability" to pay money for coal.

"We had planned an electricity project at Katwa, but the new government saw to it that it made no headway," he alleged.

He alleged that there was no power at Mograhat and yet the police fired on innocent people.

"It cannot go on. It proves that there was no law and order." Claiming that farmers were not getting proper price for their produce, he cited the comparative prices of jute and paddy, the state's main produces, during the Left front rule and the present dispensation.

While jute fetched Rs 4000 per quintal during LF tenure, it had come down to Rs 2000 during Trinamool rule, he said.

The high prices of fertilisers only compounded the problem, he said.

Bhattacharjee wanted to know which was the greater foe for the Trinamool Congress - CPI(M) or the Maoists. "The ruling party should speak up."

He also hit out at the Congress-led UPA government saying a number of scams in recent years were responsible for revival of the BJP.

"The situation may help BJP to emerge as the stronger political force," he said and promised to agitate to put a stop to its rise.

He blamed the Central government for the hike in the prices of daily commodities and petroleum products, while criticising Trinamool-led state government for "silence" on the hike.

Bhattacharjee also took a swipe at Union Finance Minister Pranab Mukherjee for his attempt to 'conceal' the list of foreign bank account holders and said the money recovered could be used for development of health infrasstructure and education.