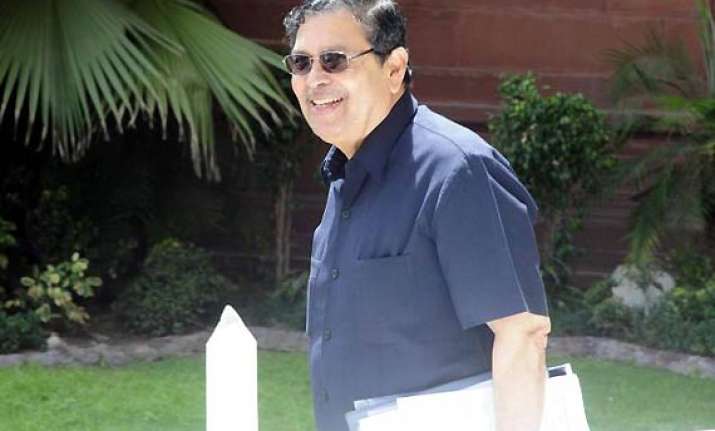 Bangalore, Aug 18: Former Karnataka Lokayukta Justice Santosh Hegde has denied allegations that Team Anna is adamant on  the Jan Lokpal Bill draft, saying that if the Centre is ready to discuss the contentious issues regarding the Lokpal Bill with an open mind, the civil society members have no problem in having a discussion.
 
Speaking to reporters here on Thursday, Hegde said:  "If the government is saying they have objection on only two issues – bringing the prime minister and judiciary under the Lokpal ambit then I will talk and try to persuade my team."
 
"In all there are eight issues of where there has been disagreement. So if the government is saying they are willing on six and contradicting only on the PM and judiciary, we are ready to have talks with them and reach a consensus," Hegde told reporters adding "we will expose the government".
 
Hegde,a member of the joint committee for drafting the Lokpal Bill, is okay with the exclusion of the Prime Minister and judiciary from the  ambit of the bill as desired by the UPA government if Team Anna's other demands are fulfilled.

Justice Hegde,who was guest editor of Vijaya Karnataka,sister publication of The Times of India,here on Wednesday,said:   "Our negotiations broke down as we had differences on eight issues,including bringing the PM and judiciary under the ambit of the legislation.

"We are blinking.I feel we can drop two issues (keeping the PM and judiciary out),provided it (government) agrees to other six things, he said.This is my personal view.But we are united.We havent met and discussed this.I feel I may be able to persuade other members", he added.

Some issues the Union government and the Team Anna differ are: process and manner of appointment and removal of Lokpal;protection of whistleblowers;inclusion of officials (Team Anna wants all central government employees,while the government says only Group A officers); MPs behaviour in Parliament;inclusion of CBI and CVC (the government doesnt want both under the Lokpal,while Team Anna wants CBI included under Lokpal and either inclusion or scrapping of CVC).
 
If the government doesn't blink, he wants both Bills  be introduced in Parliament . 'Let MPs choose;we'll accept Parliament's decision', he said.