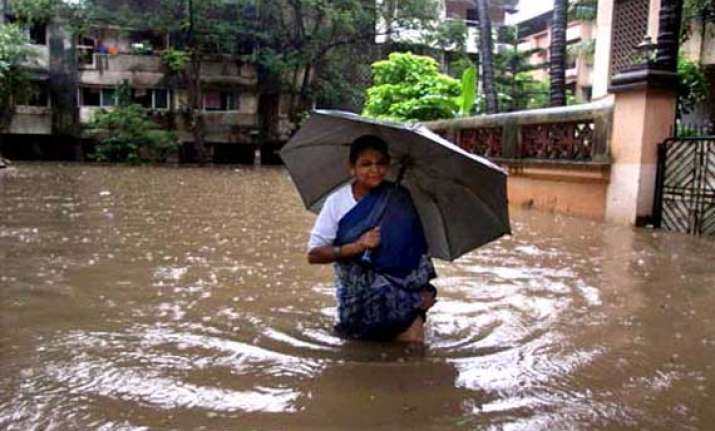 Mumbai, July 23: Heavy rains lashed coastal Konkan, Mumbai metropolis, Vidarbha and Marathwada region during the past 24 hours.
Heavy rainfall was reported from Ratnagiri, Devgarh, Sindhudurg, and Chiplun of Konkan region.
Train services in Konkan region have been disrupted after track soil upto 200 metres was washed away near Nivsar, Ratnagiri.
Trains have been diverted from the area, and the Konkan Kanya, Ratnagiri Express, Konkan Express are running 4 hours late.
Traffic on two main roads has been disrupted due to waterlogging in Bajarpeth, Ratnagiri.
In Vidarbha region's Chandrapur, heavy rainfall up to 100 mm has been reported in the past 24 hours. Waterlogging has taken place in the main markets of Chandrapur, while Irai dam in Chandrapur is presently above danger level.  Seven sluice gates of the dam have been opened up to a height of 2 metres.
Heavy rainfall has been reported from Ballarpur and Chimur. A record rainfall of 333 mm has taken place in Gondpimpri.
More than 25,000 hectare crops have been damaged in Chandrapur, Gondia, Gadhchiroli, and Bhandara districts, says the state government.
The Maharashtra government has announced Rs 25,000 per hectare compensation to farmers whose crops have been damaged. Yashoda river in Wardha district is also in spate.
In Mumbai megapolis, intermittent rains have been continuing since 2 am. Waterlogging has taken place in Juhu, JVPD, Hindmata, Wadala, Matunga and Kurla.
Traffic has slowed down due to waterlogging in  Vikhroli, Kurla, Andheri, Jogeshwari, Vikhroli Link Road, SV Road and  LBS Road.
Heavy rainfall has also been reported from Thane and Raigarh. Waterlogging has taken place in Panvel, Alibaug, Bhiwandi, Vasai, Palghar, Virar and Karnala.