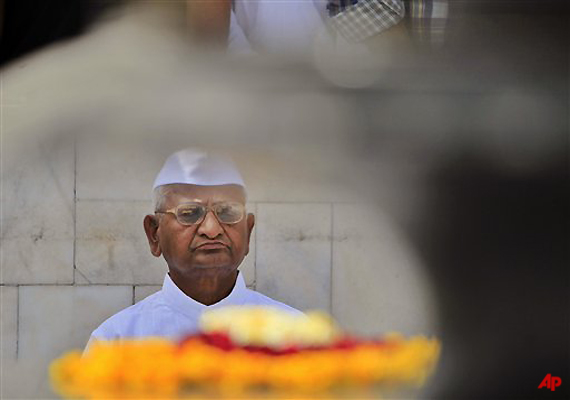 New Delhi, Mar 25: Raking up a new issue, Anna Hazare today demanded that FIRs be registered against 14 "corrupt" Cabinet ministers of the UPA by August failing which a 'jail bharo' agitation will be launched even as he pushed back the deadline for a strong Lokpal law to 2014.
74-year-old Hazare's new plan was declared at a token fast at Jantar Mantar for a strong whistleblowers bill after his close aide Arvind Kejriwal named 14 Cabinet ministers against corruption charges were levelled.

"FIRs be registered against the corrupt (Union) ministers by August or there will be 'jail bharo' (fill the jail) agitation across the country. We have to be ready for this. Date will be announced later," Hazare said ending his fast.

Kejriwal had took the names of around 25 politicians, including ministers Sharad Pawar, S M Krishna, P Chidambaram, Praful Patel, Kapil Sibal, Kamal Nath, Farooq Abdullah, Ajit Singh, Sri Prakash Jaiswal, Sushil Kumar Shinde, Vilasrao Deshmukh, MK Azhagiri and G K Vasan.

Hazare, whose last hunger strike in Mumbai in December-end last year flopped due to low turn-out, also put the government on notice on Lokpal issue. "Bring Jan Lokpal or go out of power in 2014 general elections," Hazare said.  "We will show what is the power of Jan Lokpal Bill. I am a fakir (saint). I will show them how much strength a 'fakir' like me has," he said.

Team Anna's new game plan was revealed through a series of speeches by Hazare, Kejriwal, Kiran Bedi and Shanti Bhushan towards the end of the fast.

Though Hazare and his team targeted government, they appeared soft on opposition. There were mentions of cases against BJP's B S Yeddyurappa and Tamil Nadu Chief Minister Jayalalithaa by Kejriwal. Earlier in the day, Gujarat Chief Minister Narendra Modi's name figured while talking about the killing of a whistleblower in his state.

Bedi then talked about "getting ready for the fight" during Delhi Assembly polls next year followed by Bhushan who said the government fears passing of a strong Lokpal Bill as they don't want to have their own ministers in jail.

In a bid to augment the movement's momentum and gain more support, Hazare also appeared to overlook reservations against Ramdev over his alleged Hindutva links and declared that his supporters will join the yoga guru's protests and vice versa.

"We (Ramdev and Hazare) were to have talks on June five and finalise our plans but the government acted in the night. We could not meet. Now we have decided that Ramdev will come on board our agitation. Our supporters will participate in their protest and his supporters in ours," Hazare said.

Hazare had disassociated with Ramdev after some Hindutva leaders participated in the yoga guru's protest. One of Ramdev's close aide Jaidev today spoke at the protest during which lashed out at the government.

Accusing the Government of lacking political will to bring an effective legislation to contain corruption, Hazare said peoples' power will force the Centre to legislate a strong Lokpal Bill one day.

"This government neither has any intention nor does have any political will to bring a strong Lokpal Bill. We will not relent. We will have to keep struggling. I am confident one day they will have to bring the Jan Lokpal Bill," Hazare said.

Asking his supporters to keep up the pressure on the Government, he said, "we will have to bring real democracy in the country by ensuring rights of the common people who are supreme and send their representatives to Parliament and state legislatures."

"We have to pressurise the government," he said adding people have close the "nose of the government so that its mouth is opened."

About land acquisition, Hazare said there should a law which should ensure permission of gram sabha before selling land to anyone. "There should be a law to ensure that permission is given by the gram sabha before selling land to anyone," he said.

Before starting his fast, Hazare said many people have sacrificed their lives while fighting corruption and the government has not conducted any probe despite some incidents which happened three years ago.

"Their (whistleblowers') mothers, their children, their fathers, their wives are crying for justice. But this government has gone dumb and deaf. It is not listening to the cries of people.

"There will be a big struggle. Then the government will listen. The government came up with MNREGA but these people were killed for trying to improve it," Hazare said.

His return to staging protests comes after the Congress performed poorly in the recent Assembly polls.  Former Karnataka Lokayukta and Team Anna member Santosh Hegde, who had expressed some reservations with regard to the Team recently, was present along with other members like Shanti Bhushan, Kejriwal, Bedi and Manish Sisodia.

Earlier Hazare, after his usual visit to Rajghat before any such protest in Delhi, came to the capital's dharna hotspot Jantar Mantar at around 11 AM to loud cheers from tricolor-wielding anti-corruption supporters and chants of 'Vande Mataram' and 'Bharat Mata ki Jai'.

Family members of some of the whistleblowers who were killed while fighting corruption, including that of IPS officer Narendra Kumar murdered allegedly by mining mafia in Madhya Pradesh, were also present.

During the Assembly elections, Team Anna had campaigned for a strong Lokpal. Congress leaders had claimed that the tone and tenor of their campaign was anti-Congress.

This is the first hunger strike undertaken by Hazare after he abruptly called off his three-day fast for a strong Lokpal Bill in Mumbai last December owing to failing health and poor response. This is the fifth time he is sitting on a fast in the past one year, of which four of them have been in Delhi.