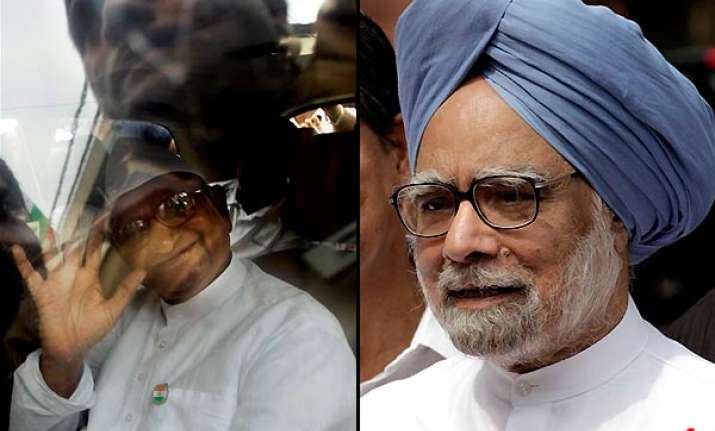 New Delhi, Aug 16 : Amid showdown between Anna Hazare and the government on the Lokpal issue, Prime Minister Manmohan Singh today took stock of the situation arising out of the detention of the activist.

The Cabinet Committee on Political Affairs (CCPA) met here this morning where officials briefed the meeting on the police action.

"Hazare has been detained. It all depends on what he intends to do. We will watch the situation," a senior minister, who attended the meeting, said.

The issue of impeachment of Justice Soumitra Sen of Calcutta High Court also figured in the meeting. The deliberations, however, primarily focussed on Hazare's protest.

Speaking to reporters separately, I&B Minister Ambika Soni, who is not a member of the CCPA, justified the police action saying if any untoward incident would have happened at a gathering of a large number of people, then all the blame would have gone on the security apparatus.
Soni said any untoward incident cannot be ruled out if some unscrupulous persons who have no social standing had gathered at the protest venue.

She made it clear neither the government nor the Congress party prefers any personal attack on Hazare but insisted that every person, how so great he may be, has to abide by the law.

In a marked difference from the earlier attack on Hazare by the party, Soni said the activist was a "reputed person" and the government trusts his word on the protest being peaceful.

Soni dismissed the contention that the government had earlier dubbed yoga guru Ramdev as an 'anarchist' and was now making similar insinuations against Hazare.

"Neither we ever described Ramdev as an anarchist nor we think in this manner about Anna. He is a reputed person. None of us like to make personal attacks against anybody. I am not for it," she said.

Asked if that was the case, why Congress spokesperson Manish Tewari questioned Hazare's credentials on the issue of corruption, Soni said that people were angry at the manner in which Hazare wrote to the Prime Minister virtually questioning his privilege to hoist the National Flag at the Red Fort.

"Naturally, people were angry. We were angry, we are angry," she said.

She rejected allegations that there was political influence on the police to act against Hazare's protest.

Soni said even the Congress party had held its plenary at Burari and not in the centre of the city to avoid a law and order situation and inconvenience to people.

"There is no political influence on police. Whatever the police have done is according to the rules and within their limit. Law is same for everyone, nobody is above law how much reputed or respectable he may be," she said.

"If police is stopped from doing their job, fingers would be raised on obstructing their work," Soni said.

On BJP's comment that Hazare's detention was "unconstitutional", Soni alleged the Opposition has the tendency to jump into every issue and reminded it that action was taken by the then NDA government during protests by the Congress even on the issue of farmers.

"And the condition in Narendra Modi's Gujarat is for everyone to see," she said in an oblique reference to action against IPS officials apparently in connection with the 2002 post-Godhra riots cases. PTI