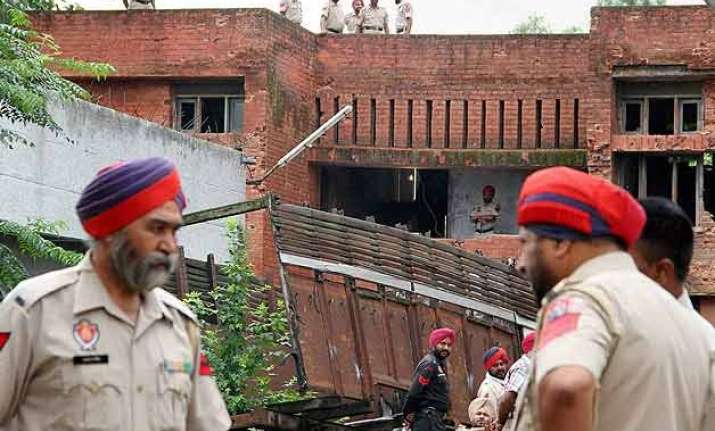 Gurdaspur/New Delhi: The terrorists who created havoc here yesterday had crossed over from Pakistan on July 26-27 night using Ravi river and they had more targets, the probe has found even as images surfaced today showing three heavily-armed men in Army fatigues walking on a road.  
Analysis of the two GPS machines recovered from the three slain terrorists showed that the details of the routes and targets had been fed into these on July 21, sources in Punjab Police said here tonight.
"The initial data gathered from Global Positioning System (GPS) shows that the three terrorists started from a safe house in Gharot in Shakargarh, Pakistan on late Sunday night and crossed over to Bamiyal town in Pathankot, which is close to the international border," a source said.
The terrorists entered India on the intervening night of July 26 and 27 and used Ravi river to cross over, the sources said. "This route of rivulets along the border was used by them as the security apparatus here is inadequate," the source said, adding from Bamiyal, they walked down to Amritsar-Jammu highway.
Punjab Police chief Sumedh Singh Saini said the terrorists had taken the route from Dhussi Bandh (Ravi river) right along the International Border to the railway track where they planted bombs and then came to Dina Nagar. The bombs were detected on time and defused.
"As per their GPS system, they first planted bombs on railway track before snatching a car from a civilian and then gained entry into the police station of Dina Nagar," he said.  Sources said the GPS analysis showed that the terrorists' targets included Dina Nagar, the railway track, SSP, Deputy Commissioner and the Army unit in Gurdaspur.
Sources in Delhi said the tracking point of one of the two GPS systems showed Talwandi point, Parmanand village and Dina Nagar as targets while the other system had Gurudaspur Civil Lines, implying that area was also the target.
He said 11 unused bombs had been recovered and five of them had been defused. Three AK-47 rifles, 17 magazines, 55 cartridges, one Rocket launcher, three hand grenades, bullet proof jackets, night vision device and heap of unused bullets were recovered from the site of the encounter, he said.
The terrorists used the same modus operandi which they do in Jammu and Kashmir to target security installations, which which is a worrying factor, the sources said.
During the interrogation of militant Jagtar Singh Tara, lodged in a jail, it had come to light that the sikh terrorists were in touch with their Jammu and Kashmir
counterparts and planning attacks in the state, he said.
"They (militants from Punjab) themselves have failed to revive terrorism in Punjab, so they are in touch with their counterparts in J and K", he said.