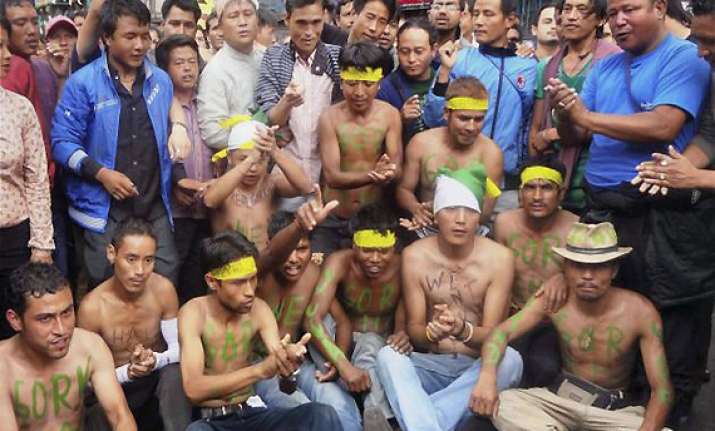 Darjeeling, Aug 8: A Gorkha Janmukti Morcha supporter attempted self immolation, a second attempt in ten days, in Darjeeling for a separate Gorkhaland state as the indefinite bandh called by the party entered the sixth day today. 
The GJM supporter, Purba Sherpa, a 32-year-old physically challenged person, who was in a procession set himself alight near the Chowk bazar, police sources said.  
The other GJM supporters hastily put out the flames and rushed Sherpa to the Darjeeling Sadar Hospital.  Sherpa sustained 55 per cent burns, the sources said.  
Earlier, a 45-year-old GJM supporter, Mangal Kumar Rajput, had set himself alight at the Dambarchowk on July 30 and died of his burns at a hospital in Siliguri on August 3.  
Meanwhile, five persons including three GJM leaders were detained.
Student leaders: Amrit Yanjan, Priyadarshan Rai, Anil Rai besides two others were detained last night, police sources said.
Amrit, Priyadarshan and Anil were later released, while the other two were arrested, they said.  Asha Gurung, the wife of GJM President, Bimal Gurung held a demonstration near the Darjeeling police station demanding their release.
The total number of arrests rose to 145 with the two arrests.
A group of children with their wrists and ankles chained and women members of the GJM with shaved heads took out a silent procession near the district magistrate's office.  
Slogan-shouting GJM supporters blocked roads in all the three hill subdivision of Darjeeling, Kurseong and Kalimpong.  
The supporters were allowing police vehicles to pass.  Only a few ambulances could be seen on the roads and there was no other traffic.
All government offices, post offices banks, shops, markets, schools and colleges remained closed.