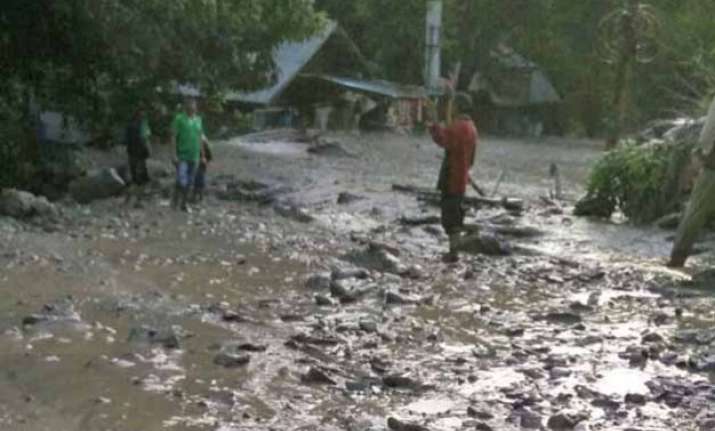 Srinagar: A teenaged girl was killed and four people went missing on Thursday when a cloudburst struck near Sonamarg, a place enroute to the Amarnath shrine in Kashmir.
The cloud-burst took place at Kellan village near Gagangir, 76 KMs from Srinagar at 6.30 PM, after which Srinagar-Leh highway was closed.
A police official said that Army has stepped in to help Jammu and Kashmir government to cope with the nature's fury.
The deceased girl has been identified as Iqra Nazir, the official said.
Two more residents of Kellan village were missing and two labourers from Gangangir could not be traced, the official said, adding that the Army mounted a relief operation to clear the national highway.
The Army, however, rescued four Spanish and two civil engineers from the incident site immediately after the natural calamity.
Gagangir is the place before Sonamarg from where the prestigious Z-Morh tunnel across Zozila Pass is proposed to be constructed for an all-weather road between Srinagar and Kargil.
Border Roads Organisation (BRO) has pressed its men and machines in operation along with Army engineers and Rashtriya Rifles jawans who had been posted on guarding the smooth conduct of Amarnath pilgrimage.
The Army opened its transit camp at Sonamarg for civilians who had been evacuated from these areas besides pressing into operation 11 mobile teams to provide food and medical supply to the needy.
There were landslides in Sonamarg area and the Army accommodated the civilians in transit camps.
On the Baltal-Amarnath yatra route, a bridge caved in at Sheshnag but there was no report of any casualty.
A bus with no one on board was also washed away in the rains.