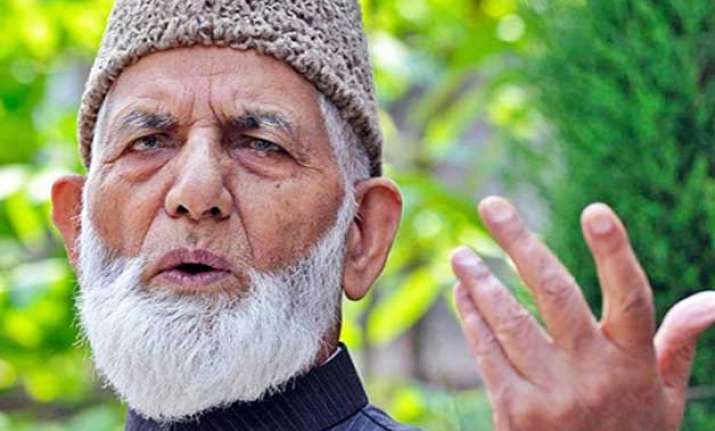 Srinagar:   In a surprise snub to Pakistan, hardline Hurriyat leader Syed Ali Shah Geelani today decided to "boycott" the Eid Milan being hosted by Pakistan High Commissioner Abdul Basit in Delhi on July 21, making it the first time that he has turned down such an invite.  
Geelani decided to boycott the event as a protest against non-inclusion of Kashmir in the talks between Prime Minister Narendra Modi and his Pakistan counterpart Nawaz Sharif in Ufa in Russia last week.
"Hurriyat has decided against taking part in the Eid Milan party of Pakistan High Commission in New Delhi. The non-inclusion of Kashmir in the recent meeting between Narendra Modi and Nawaz Sharif is unfortunate and as such Hurriyat will boycott the party as a token of protest," a Hurriyat spokesman said in a statement here.  
He said neither the conglomerate chairman (Geelani) nor any representative of the Hurriyat attend the function.  
Pakistani Deputy High Commissioner in New Delhi had telephoned Geelani to extend him an invite and informed him that a formal invitation had been dispatched, he said.  
"However, Geelani told him that a decision to attend the meet will be taken after consultations. The Hurriyat met today and decided to boycott the event," the spokesman said.  This is the first time that Geelani, a hardline pro-Pakistan leader, has turned down an invite by the Pakistan High Commission.
"Kashmir is an issue of 13 million people and they cannot be taken for granted or sidelined at any point of time," the spokesman said.
The Hurriyat spokesman said since the formation of a "fanatic government" in Delhi, the government of India is trying to push a "minus-Kashmir agenda" as far as its ties with Pakistan are concerned.
"The non-inclusion of Kashmir in the recent high-level meeting (between the Prime Ministers) reflects that Pakistan has accepted the dictate of India and has preferred appeasement of Modi over the sacrifices of Kashmiris, which is very painful," he said.
Modi and Sharif, who met for an hour in Ufa on July 10 on the sidelines of Shanghai Cooperation Organisation (SCO) Summit, focussed on the issue of terrorism and agreed to quicken the Mumbai attack case trial.  
A joint statement issued after the talks, first between the two leaders in over a year, had no mention of Kashmir.  
Pakistan's National Security Adviser Sartaj Aziz, however, said in Islamabad that "no dialogue will take place with India unless Kashmir issue is included in the agenda." Aziz was present during meeting between the two Prime Ministers in Ufa.