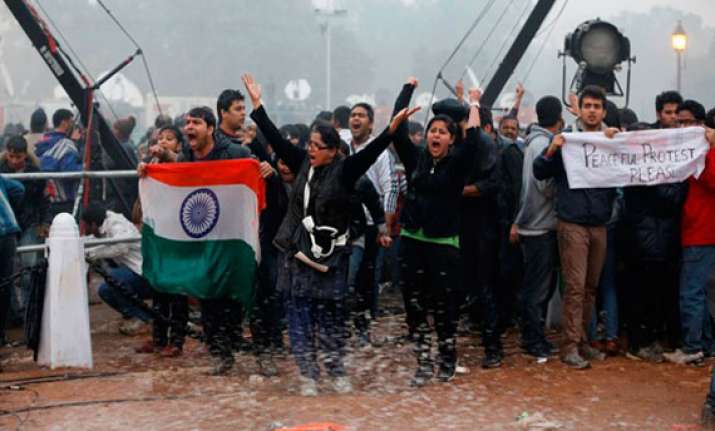 New Delhi, Dec 27:  Scores of people today marched towards India Gate from south Delhi demanding better safety and security against the backdrop of the gang-rape and brutal assault of a young girl in a moving bus 11 days ago.
Around 500 people, including girls, marched from Nizamuddin in south Delhi to India Gate but were stopped at the Zakir Hussain --Subramania Bharti Marg crossing, near India Gate, leading to traffic blockade.
The protest march came amid prohibitory orders placed in and around India Gate after the violence during protests against the gangrape.
The protesters were demanding sacking of Delhi Police Commissioner Neeraj Kumar, fast-tracking pending sexual assault cases, special session of Parliament for enacting strong laws against sexual offences and better security for women.
Police announced that they will not be allowed to move ahead to India Gate due to prohibitory orders. They said if the protesters wished, they would ferry them in a bus to Jantar Mantar or Ramlila Maidan to continue their protest.
The gang-rape of the 23-year-old girl has sparked outrage across the country and there have been demands for stringent punishment for the criminals.