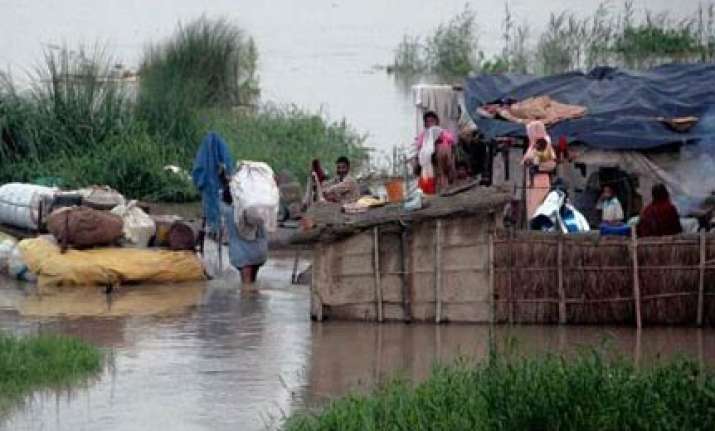 Large swathes of North India were on Monday inundated due to flood in Ganga and Yamuna rivers. The majestic river Ganga was flowing one metre above the danger level of 294 metre and neighbouring districts in Uttar Pradesh have been alerted. The water level of  Tehri Dam has touched 818 metres, an official said. 
Ganga was flowing above the danger marks in Haridwar and Bulandshahar. District administrations in Bijnore, Muzaffarnagar and Meerut have also been alerted about the flood threat.
The river Yamuna has crossed the danger levels in Delhi, Baghpat, Ghaziabad and Mathura, inundating vast areas along its banks.  The river Ghaghra is in spate and threatening embankments across Azamgarh, Mau and Ballia in eastern Uttar Pradesh.
The spate in Ganga has been attributed to large quantity of water released from Tehri Dam as the river Alaknanda's water level continued to rise due to fresh rains in the hills of Uttarakhand.
Hundreds of hectares of cultivated land in western Uttar Pradesh has been submerged due to flood, state officials said. The Ganga has touched danger mark at Garhmukteshwar also. Rains have flooded large areas of Bareilly and Pilibhit too.
The other rivers  Ghaghra, Saryu and Rapti are also in spate due to continuous rain. Ghaghra and Sarya are flowing above danger marks in the region of Awadh. Ghaghra is flowing above danger mark in Bahraich, while Rapti has wrought havoc in Gorakhpur.
Several villages around Bahraich have been flooded as Rapti is in spate. Thousands of people have evacuated their homes in Gonda, Bahraich and Ambedkar Nagar. People in Dalmau near Rae Bareli are leaving their homes due to flood.The river Ghaghra has flooded its embankments and has flooded more than 36 villages of Barabanki district.
In the capital,  Delhiites got drenched while on way to schools and offices with incessant rains lashing the national capital for the fifth consecutive day, even as the water level in Yamuna river remained above the danger mark. 
The showers began at around 7.45 am as office-goers and students started from their homes to reach their respective destinations. The city received a total of 6.5 mm rains for a period of 24 hours till 8.30 am today, Met Office said. 
The city has been hit by incessant rains for the past five days, which brought with it water-logging and huge traffic jams.  As the sky opened up, vehicular movement became slow in areas like ITO, Vikas Marg, Connaught Place and AIIMS.
Some people were seen parking their two-wheelers near Metro stations to reach their destinations by the new age transport system. Yamuna is now flowing at a level of 205.19 metres, which makes it 36 cm above the danger level of 204.83 metres. 
The water level is expected to increase as Haryana has released 3.5 lakh cusecs of water yesterday, which is expected to reach the national capital today.  People living close to the river bank have been evacuated and shifted to camps that have been set up in safer areas, according to officials. 
Some 20 camps have been set up to provide shelter to the people affected by the rise in water level, and arrangements for medical and food facilities have been made, an official said. Met office said the next 24 hours are likely to see a generally cloudy sky with a few spells of rain or thundershowers, one or two of which may be heavy. PTI