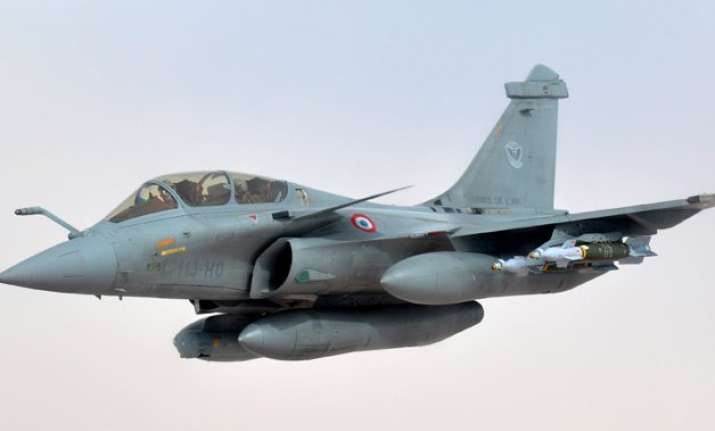 New Delhi: Making it clear that one car cannot travel on two roads at the same time, India today said all future deals for Rafale fighters would also be through government to government route, indicating that the USD 20 billion MMRCA tender has virtually been scrapped.
The development came after Prime Minister Narendra Modi decided to buy 36 Rafale fighter aircraft in fly-away condition from the French government directly, sidestepping a gruelling three-year negotiations for the Medium Multi-Role Combat Aircraft(MMRCA) tender, for which Rafale was shortlisted.
Noting that MMRCA negotions had entered into a "loop" or a "vortex" with no solution in sight, Defence Minister Manohar Parrikar said direct negotiations with France will now decide how much more Rafale has to be bought and if it will be under 'Make in India' programme.
The minister refrained from giving a direct reply to questions whether requirement of Air Force for more MMRCA will be through Rafale or if any other player can come into action.
"Scope was only possible in Government to Government deal. Instead of going through the Request for Proposal (RFP) route where there was lot of confusion and chaos, it was decided that we will go through the G2G route," he said explaining that 36 Rafale jets would be procured in ready to fly conditions.
He said what has to be done to the rest would de decided after discussions between the two governments.
Asked what it means to the eight-year-old tender process for MMRCA, for which Rafale was shortlisted, Parrikar said it has not been decided yet.
"But if this (G2G) route is followed, obviously, one car cannot travel on two different roads. There were lot of problems on that (tender) road. That is why we have adopted the procedure of direct government to government," he said briefing reporters at South Block.
Replying to another query if future deals on Rafale would also be through G2G route, Parrikar said, "All deal(s) will be in G2G only. The 36 are in fly-away condition which means they will be manufactured by company in France and supplied in fly away conditions".
Under the MMRCA contract, while 18 aircraft were to be bought off the shelf, 108 were to be manufactured by state-run Hindustan Aeronautics Limited under a license from Dassault Aviation, the manufacturers of Rafale.
Though Rafale was shortlisted in 2012 after a five-year tending process, a final contract could not be signed due to differences over two issues - pricing and Dassault's reluctance to stand guarantee for planes manufactured by HAL.