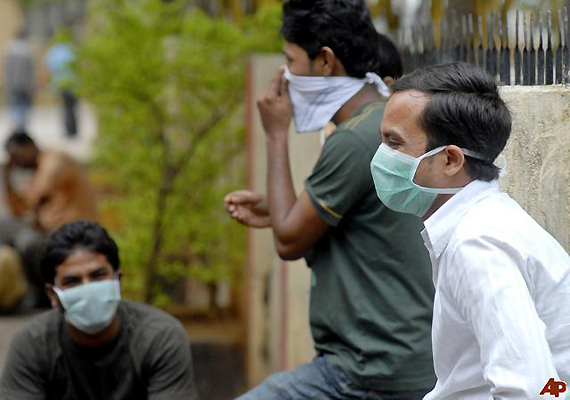 New Delhi, Mar 30: Fresh outbreaks of dreaded H1N1 virus have surfaced in Maharashtra, Rajasthan and some other states claiming at least 21 lives in the last three months.
At least 309 cases have been reported in five states including Andhra Pradesh, Karnataka and Gujarat, according to the latest Health ministry figures.
While states reporting fresh cases of H1N1 influenza virus (also known as Swineflu) have been asked to step up surveillance by Union Health Ministry to check further spread of the virus, the Government said there was no cause for panic or alarm.
Of the total 21 deaths in 2012 so far, Maharashtra has reported nine deaths, followed by seven in Rajasthan and five in Andhra Pradesh. No death has taken place in Karnataka and Gujarat, which have also reported cases of H1N1 virus this year.
"The Health Ministry is monitoring the situation. There is no cause for worry. States where cases had been reported have been advised to step up surveillance to control further spread of the virus," Health Secretary PK Pradhan told PTI.  
Health Ministry officials point out that these are "isolated outbreaks", which occur due to change of season and claimed corrective measures have been taken to ensure the virus is not spread from humans to humans.
During March 1-27 this year, Maharashtra alone reported 172 cases followed by 39 in Rajasthan, 36 in Andhra Pradesh and 11 in Karnataka and one in Gujarat.
The spread of virus is mainly around Pune in Maharashtra, which accounted for majority of cases, officials said.
The WHO had in 2010 warned that there will be isolated seasonal and sporadic outbreaks of the virus likely during change of season.
"This is part of the life cycle of the virus.. these may continue for a few seasons after the Pandemic was called off in November 2010, till the time the human population develops adequate immunity against it," said a health expert.
Of the total 48,752 confirmed cases of H1N1 Influenza virus since 2009, 2,840 deaths have taken place with the maximum of 953 from Maharashtra, 492 from Gujarat, 321 from Rajasthan, 266 from Kerala, 107 from Andhra Pradesh, 151 from Delhi, 131 from Kerala and 122 from Madhya Pradesh.
In the last three years of 2009, 2010 and 2011, Maharashtra reported the maximum of 11,433 H1N1 cases, followed by 11,189 in Delhi, 4,777 cases in Rajasthan, 4,546 cases in Karnataka, 3,322 in Kerala, 3,280 in Tamil Nadu, 2,386 in Gujarat, 2,076 in Haryana, 1,644 in UP and 1521 in Andhra Pradesh, according to the official figures.
While 27,236 cases and 981 deaths were reported across India in 2009, as many as 20,604 cases and 1,763 deaths in 2010 and 603 cases and 75 deaths were reported in 2011.
The virus, which had spread across many parts of the world in 2009, claimed thousands of lives.
In 2009, the global spread of H1N1 had been caused by a particular strain of the Influenza virus, just like any other flu. This strain A-H1N1 (also called the swine flu virus) had originated in pigs but had changed itself to be infective in humans as well.
The symptoms of swine flu in people are similar to the symptoms of regular human seasonal influenza like fever, lethargy, lack of appetite & cough. Some people have reported running nose, sore throat, nausea, vomiting and diarrhoea.
Young children, elderly with weak immune system and those with chronic health conditions (chronic heart, lung disease, metabolic or renal disease or immunodeficiencies) are considered high-risk group for complications of influenza, which has an infectious period between one to seven days.