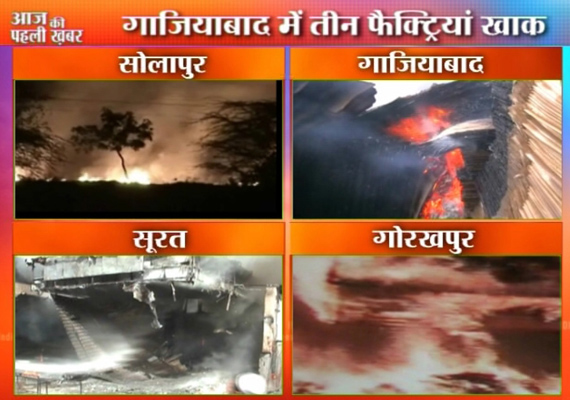 Solapur/Surat/Ghazaiabad/Gorakhpur, Feb 21 : Five women persihed in a crackers factory fire in Solapur on Monday, while three factories were gutted in a fire in Ghaziabad.

Five women workers were killed and and nine others were  injured in a major blast at a firecracker factory  factory in Bhalwani village in Maharashtra's Solapur district, police said.

The toll is likely to go up as some workers are feared trapped under the debris of the structure which caved in under the the impact of the explosion, they said.

The blast took place at Sagar firecracker factory after the gun powder used in making crackers caught fire. The  intensity of the explosion was so high that eight rooms of the factory collapsed, police said.

"As of now, five dead bodies have been removed and all are women....The exact toll could be known only after the rescue work is over....JCB machines are pressed into service for removing the rubble," Mangalvedha tehsil police station incharge P Bhosale said.

According to a villager Maulana Begumpur, the blast took place at around 5:30 PM and the factory soon caught fire.

Three  fire engines were pressed into service to control the flames, police said.

In Ghaziabad's Loni area, three factories were gutted in a devastating fire on Monday. The fire first began in a snacks factory, and later spread to a printing press and cardboard factory. Firemen controlled the flames after four hours of efforts.

A petrol pump caight fire in Sayedpura in Surat on Monday, and as the flames spread to an oil tanker, the driver immediately drove the vehicle away from the pump preventing further damage.

In Gorakhpur, UP, lakhs of rupees worth spices went up in flames, after a truck caught fire after coming in touch with a live wire.