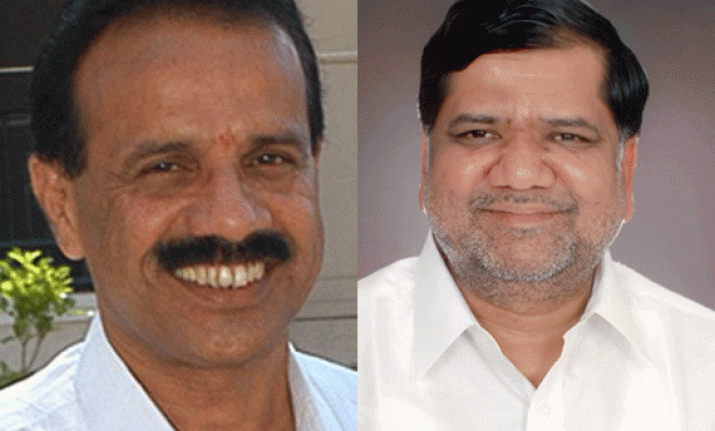 Bangalore, Aug 8:  The Karnataka BJP is currently witnessing an unprecedented tug-of-war between both warring camps, one led by  former chief minister BS Yeddyurappa and other by defeated chief ministerial candidate Jagdish Shettar over the number of ministers and portfolios.
 
Yeddyurappa's man D V Sadananda Gowda took oath on Aug 4 as chief minister, a day after he won the vote in the legislature party defeating Shettar.  Shettar and his men boycotted the swearing-in ceremony.

Five days have passed since then and the party is still grappling with the issue of ministers and portfolios.
 
The formation of  the new ministry is stuck with rival factions mired in differences over the number and posts each will get.
BJP general secretary and in-charge of party affairs in the state Dharmendra Pradhan held talks with groups led by new Chief Minister DV Sadananda Gowda and former rural development minister Jagadish Shettar.

State BJP chief KS Eshwarappa, who had backed Shettar to succeed scam-hit BS Yeddyurappa, also met Pradhan.

Eshwarappa told reporters before the meeting that he was hopeful of all issues being sorted out.

However, he did not talk to the media after the meeting. Others who took part in the discussions, including Gowda and Pradhan, also declined to talk to the media.

The two groups started the discussion on ministry formation on Saturday. "The talks started after the party central leaders told the two groups the issue should be settled at the state level,"  a state leader said.

After Saturday's talks indications were that the two groups had agreed to equally share the ministerial berths, 17 each.
 
The state can have a 34-member ministry, including the chief minister, under the constitutional provisions.

"Talks with Pradhan focused on the number of ministers to be sworn-in at present, their portfolios and whether there should be deputy chief minister," the leader said.