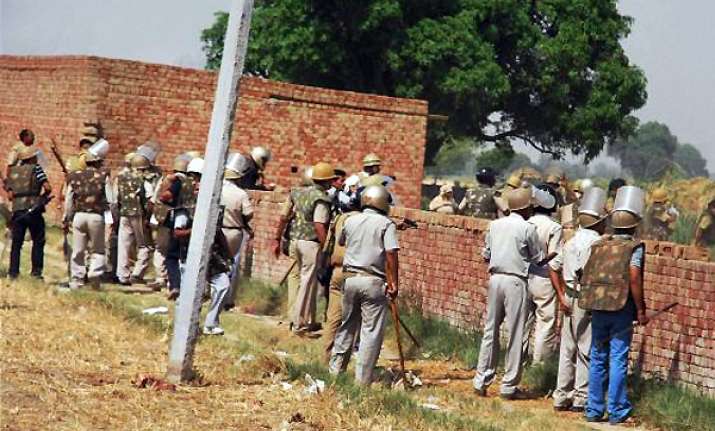 Greater Noida, Oct 24: Almost six months after the incident, Uttar Pradesh government today filing of FIR against 16 Provincial Armed Constabulary personnel accused of rape in Bhatta Parsaul villages during anti- land acquisiton agitation by local farmers.

Dankore police has lodged a rape case against 16 PAC men, including its commandant, as per the court directions, said Anuj Choudhary, SHO, Dankore.

Senior Superintendent of police, Gautambudh Nagar district, Jyoti Narian told PTI on phone that the FIR has been filed on the directives of the Chief Judicial Magistrate's court.

The FIR has been filed by a victim in the case who had approached the court, the SP said.

Congress General Secretary Rahul Gandhi had levelled the charge of rape but the Mayawati government had earlier rejected it.

Farmers of Bhatta Parsaul villages had clashed with police in May this year protesting acquisition of their land by the state government. Four persons, including two policemen, were killed in the violence that had broken out during the anti-land acquisition stir.

The SC/ST Commission had also taken up the issue and its chief P L Punia had demanded registration of FIR in alleged rape in Bhatta Parsaul.

The state government's action also came after Allahabad High Court had dismissed the PAC commandant and Dankore police's petitions challenging a district court's order, leaving the police with no option but to lodge the FIR.

The High court had passed strictures against the Dankore SHO expressing surprise that instead of lodging the FIR he had moved the high court.

The Chief Judicial Magistrate's court had on September 15 directed the police to lodge rape case against the 16 members of PAC as a woman has alleged rape by them on May 7.

Police had lodged revision petition at district judge court. District Judge Het Singh Yadav had on October 10 dismissed the revision petition.

Police had then got 10 days period to challenge it at high court.

A woman, whose husband is still in jail, had alleged gang rape by PAC men. She had moved the district court after police refused to lodge the FIR.

She also stated that men in uniform had even threatened her not to raise voice.