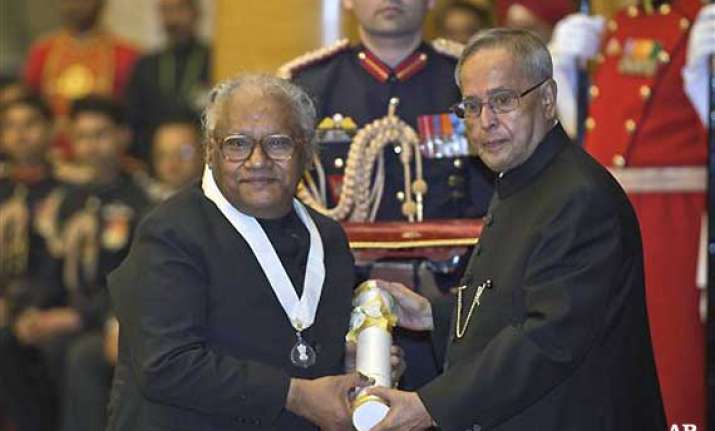 New Delhi: Eminent scientist C.N.R. Rao was Tuesday conferred with the Bharat Ratna, India's highest civilian award, by President Pranab Mukherjee at a glittering ceremony at the Rashtrapati Bhavan here.
Rao joined the list of 41 eminent personalities who have been given the Bharat Ratna in recognition for their contribution to the society.
Rao, 79, is the fourth scientist after C.V. Raman, M. Visvesvaraya and former president A.P.J. Abdul Kalam to get the Bharat Ratna.
Cricket legend Sachin Tendulkar, 40, nominated to the Rajya Sabha last year, is the first sportperson and the youngest recipient of the award.
Tendulkar is the most accomplished cricketer in the world, finishing his illustrious career with a fair clutch of records. He has 15,921 runs from a record 200 Test matches at an average of 53.58 and 51 centuries.
He scored 18,426 runs from 463 ODIs with an average of 44.83 including 49 centuries. He was also the first to score a double hundred in the 50-over format.
Tendulkar quit the one-day form of cricket in 2012 and Tests last year.
Rao is one of India's most renowned scientists and is known for his work in solid state and structural chemistry.
He is the honorary president of Bangalore's Jawaharlal Nehru Centre for Advanced Scientific Research, which he founded in 1989.
Rao was appointed chairman of the Scientific Advisory Council to the Prime Minister in January 2005. He is also the director of the International Centre for Materials Science.
The government last year changed the nomination criteria for Bharat Ratna to include sportspersons.
Legendary hockey player Dhyan Chand was also recommended for the award but Tendulkar was chosen.