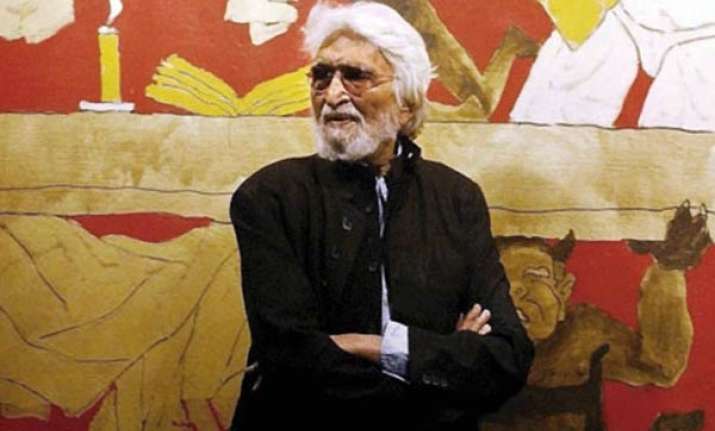 New Delhi, Jun 9: Eminent Indian painter Maqbool Fida Hussain passed away in  Royal Brampton Hospital, London at around 2:30 am GMT on Friday morning, sources close to the painter said. Husain was 96.
 
The painter had been keeping indifferent health for the last several months and had been admitted to the London hospital three days back.

 
Considered India's Picasso, Hussain was born  on September 17, 1915 in Pandharpur, Maharashtra. He left India after a slew of cases were slapped against him in Indian courts  against some of his controversial paintings in which Hindu goddesses were drawn nude by the painter. He stayed in Dubai and in January last year, he  accepted the citizenship of Qatar.

 
Husain first became well-known as an artist in the late 1940s. In 1947, he joined the Progressive Artists Group, founded by Francis Newton Souza.  This was a clique of young Indian artists who wished to break with the nationalist traditions established by the Bengal school of art and wanted to encourage and Indian avant-garde, engaged at an international level.


In 1952, Hussain's first solo exhibition ws held at Zurich drawing applause from art critics and over the next few years his work was widely seen in Europe and the U.S.  In 1955, he was awarded the PadmaShri, Padma Bhushan in 1973  and in 1991 was given the Padma Vibhushan by the government of India.

Hussain, who used to paint cinema hoardings as a youth for a living, later also dabbled in film making.  In 1967, he made his first film, Through the Eyes of a Painter. It won the Golden Bear at the Berlin Film Festival.

Hussain was a special invitee along with Pablo Picasso at the Sao Paulo Bienniale in 1971. He was nominated to the Rajya Sabha in 1986.

Husain went on to become the highest paid painter in India. His single canvases have fetched up to $2 million at a recent Christie's auction.

Hussain also produced a directed Gaja Gamini, starring his muse Madhuri Dixit, who was the subject of a series of his paintings which he signed as Fida.The film was intended as a tribute to Madhuri herself. In the film, Madhuri was seen portraying  various forms and manifestations of womanhood including the muse of Kalidas, the Mona Lisa, a rebel and musical euphoria.


Hussain went on to make Meenaxi: A Tale of Three Cities with the actress Tabu. 

The Kerala government honoured him with the Prestigious Raja Ravi Varma award which again sparked another controversy and the matter was dragged to the courts.

In early 2008, Husain's Battle of Ganga and Jamuna: Mahabharata 12, a large diptych,  from the Hindu epic, fetched $1.6 million, setting a world record at Christie's South Asian Modern and Contemporary Art sale.

His name has also been included in the list of the 500 Most Influential Muslims in the World, issued by the Royal Islamic Strategic Studies Center in Amman, JOrdan.

In the 1990s some of Husain's works became controversial because of their portrayal of Hindu deities in the nude or in an allegedly sexual manner.

The paintings in question were created in 1970, but did not become an issue until 1996, when they were printed in Vichar Mimansa, a Hindi monthly magazine, which published them in an article headlined "M.F. Husain: A Painter or Butcher".

In response, eight criminal complaints were filed against Husain. In 2004, Delhi High Court dismissed these complaints.


In 1998 Husain's house was attacked by activists of Bajrang Dal  and art works were vandalised. This was supported by the Shiv Sena leadership. Twenty-six Bajrang Dal activists were arrested by the police. Protests against Husain also led to the closure of an exhibition in London.

A series of cases were brought against  Hussain and a court case related to the alleged obscene depiction of Hindu goddesses in his paintings resulted in issuing a non-bailable warrant against Husain after he failed to respond to summons.

There were also reportedly death threats   The artist left  India  stating that "matters are so legally complicated that I have been advised not to return home".

Living  in Dubai and London, Husain continued to stay away from India, but had several times expressed a strong desire to return, despite fears that he may be arrested in connection with these cases. A recent Supreme Court order had suspended an arrest warrant for Husain.

 The law ministry has examined half-a-dozen works by Husain and told the government that prosecutors would have a strong case against him if they sued him for deliberately hurting religious feelings.
Bollywood stars and senior political leaders have expressed grief over Husain's death.

"Very sad to hear that the great M F Husain is no more, RIP," veteran actor Dev Anand said on Twitter. "The news is shocking. It is yet to sink in. Just two days back I was discussing him with a friend. He was a great filmmaker who made films which he believed in and financed it himself. He was a special person and a genuine artist," said director Anurag Kashyap.

Said Actor Raghubir Yadav, who also starred in 'Meenaxi.'
"It is sad that an artist of such a stature is no longer among us. Working with him was a learning experience. He was peaceful by nature and a open-minded person." Tweeted Kunal Kapoor: "Deeply saddened by the news about Hussain saab. He was not only a great artist but an incredible human being. His passion and love for life was contagious and unparalleled. May his soul rest in peace."

Said Shabana Azmi: "Husain was a close friend and a wonderful human being. He was a prolific painter. He is someone who is born once in 100 years. I last met him through a video-conference. He was deeply moved when we told him we will try to bring him back to India. He missed India."

Said Lyricist Javed Akhtar: "I think many people realise the importance of artists in this country because of him. His contribution to Indian art has been totally unprecedented."

"Hussain passes away. We hang our heads partly in grief and partly in shame for not being able to let him spend his last days in this country," tweeted Rahul Bose. "Very sad to hear of the passing of M F Hussain saab. A wonderful person and a great artist. May his soul rest in peace," said Abhishek Bachchan.

Filmmaker Shekhar Kapur tweeted, "M F Husain who seemed ageless, painting till his last days leaves us with one of India's greatest legacy of art."

Madhur Bhandarkar said, "Sad to hear renowned legendary artist M F Husain passes away, RIP!!!" "The legendary MF Husain has left us. Rest in peace sir," said actor Siddharth.

"RIP, M F Husain, son, lover and nemesis of India," actor Ranvir Shorey tweeted.

Filmmaker Pritish Nandy said, "Few people had that zest for living as Husain. My walls are full of his notes and drawings left in my office when I wasnt there."

Composer Vishal Dadlani tweeted, "Apologies for the lack of understanding your home country showed you. There was nothing vulgar about Husain's work. Pity that some illiterate people who saw his stuff had dirty minds." 

Vice President Hamid Ansari said: "Husain was a legend of art of our times. To most Indians, he came to represent modern Indian art. Besides his enormous achievements in painting and other art forms, Husain was a keen observer of our national evolution which was reflected in his art," he said.

Ansari noted that Husain captured public imagination with his portrayal of important personalities and events and his death is an immense loss to the nation and to the artistic community. "He will always be remembered for his love of India that was reflected in his paintings," he said.

Prime Minister Manmohan Singh described his death  as a "national loss" while Lok Sabha Speaker Meira Kumar said Husain's death has created a "vacuum in the creative world".

Describing Husain as an "eminent and respected" personality, Information and Broadcasting Minister Ambika Soni said his artworks have been displayed with great interest for public viewing.

"He was invited to India ...I do not remember on how many occasions. It's very unfortunate that narrow minded people look at art and creativity with same perspective, but the majority of Indian people have never supported their views," Soni said when asked about protests against him by right-wing activists.

Soni said it was true that Husain got displeased at many instances and he did express his displeasure, but the government and many NGos tried to reason out with him. "As far as change in citizenship is concerned, I myself listened to one of his interviews where he cited work and lifestyle as reasons for changing citizenship. I don't think he stopped loving his country," she said.

CPI(M) leader Sitaram Yechury described Husain as one of India's foremost artists and creative personalities who contributed to art to take forward the syncretic civilisation that India is.

"It is tragic that during his last years, he was forced to live outside India because of relentless campaign against him by the communalists. We convey heartfelt condolences to his son and painter Shamshad and other relatives," he said.

Maintaining that Husain "slipped" while drawing paintings of Hindu deities, Shiv Sena chief Bal Thackeray today said, "Damage may have been caused to modern art due to his demise."

"Damage may have been caused to modern art due to his demise. Thats all. May Allah give him peace," he said.

"As an artist, everyone has a domain and Husain handled his modern art with zeal. However, he 'slipped' while drawing paintings of Hindu gods and goddesses," Thackeray said.

Bollywood star Amitabh Bachchan said the best gift he received from the celebrated artist M F Husain was a painting of Lord Hanuman when he was recuperating after an accident on the sets of 'Coolie'.

"M F Husain, artist, painter, friend... passes away! Sad, very sad! Many of his works and gifts adorn my home," Bachchan said on micro-blogging site Twitter. "Husain's best painting gift to me... a Hanuman with 'Sanjeevani booti' flying... given to me in Breach Candy Hospital, during the Coolie episode," he said. During the shooting of Manmohan Desai's film 'Coolie' in 1982 Bachchan was critically injured in the intestines while filming a fight scene with co-star Puneet Issar which almost cost him his life.

The 68-year-old actor also mentioned about other paintings of Husain, given to him, which he cherished.

"Another special painting he did for me... translated my poem I wrote in Hospital, on canvas... very special and most endearing!!," Big B said. PTI