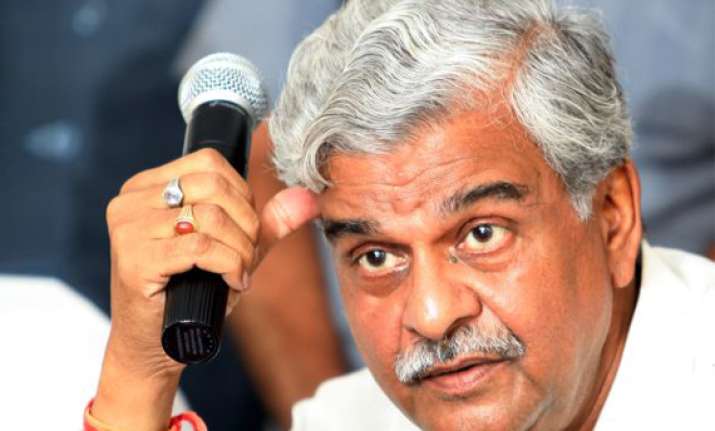 New Delhi, Feb 24: Holding prima facie that his comments on imposition of President's Rule in Uttar Pradesh a threat to voters and violation of Model Code of Conduct, the Election Commission today slapped a show cause notice on Union Minister Sriprakash Jaiswal asking why action should not be initiated against him.

"The Commission is, prima facie, satisfied that Shri Sri Prakash Jaiswal, by making th aforesaid uncalled for statement has attempted to threaten the voters of districts going for poll in 6th and 7th phases either to vote for his party i.e. INC, or face imposition of President Rule in Uttar Pradesh and has thus violated the aforesaid provisions of the Model Code of Conduct," the EC notice served on him said.

The Commission asked the Coal Minister to explain his position on the matter by 2 PM on Monday, February 27, failing which it will decide the matter without giving any further opportunity to him.

The Commission today discussed the matter at its meeting attended by Chief Election Commissioner S Y Quraishi and Election Commissioners V S Sampath and H S Brahma and decided to issue a show cause notice to Jaiswal on his comments.

The EC action comes in the wake of complaints received by it from BJP and Samajwadi Party, charging Jaiswal with violating the Model Code and for threatening the voters of Uttar Pradesh.

The EC acted on the BJP complaint made against Jaiswal yesterday and the SP complaint received by it today.

Jaiswal had after casting his vote in Kanpur in the 5th phase of polling yesterday, said "if Congress gets majority, then it will form the government... In case we don't get clear majority, we sit in the opposition and I see no alternative but Governor's rule."

The EC had earlier sought the video of Jaiswal's speech besides also a report on the matter from the district magistrate of Kanpur, which has since been given.

However, soon after returning to Delhi, he appeared to retract, saying his statement was "twisted" by reporters.

The Commission held the Model Code of Conduct was for the guidance of political parties and candidates and it provides that "all parties and candidates shall avoid scrupulously all activities which are 'corrupt practices' and offences under the election laws such as ... intimidation of voters..."

Reacting sharply to Jaiswal's remarks, BJP had accused Congress of treating the state like its fiefdom and dubbed the minister's comments as "undemocratic and a threat to the voters"

Party leader L K Advani said imposition of President's rule in UP if Congress does not get a majority would be blatant misuse of the provision.

"A union minister has publicly announced that if our government is not formed, President's Rule will be imposed... Article 356 will be used. Nobody can even think of such blatant misuse. The makers of our Constitution had never imagined it would be used in the manner the minister has stated," Advani had told reporters.

BJP President Nitin Gadkari had also hit out at Jaiswal, saying "he is issuing a threat to voters that if you do not vote for Congress, we will bring President's Rule. This (UP) is not Jaiswal's fiefdom. This is a democratic country. By issuing such a threat, in a way Jaiswal has violated the model code of conduct and threatened people," Gadkari said.

Gadkari had said the disrespect shown by ministers like Salman Khurshid, Beni Prasad Verma and now Jaiswal to the Election Commission is such that if the poll panel does not take strong and effective action, nobody will listen to it in future.

Congress spokesman Rashid Alvi said that Jaiswal has already explained his position by noting that his remarks were "misinterpreted" and that he would explain the same to the poll body.

Samajwadi Party, in its complaint, had also charged Jaiswal with intimidating the voters of Uttar Pradesh and said his comments on imposition of President Rule in case Congress did not get a majority was a "gross" violation of the Model Code and had asked the EC to take stern action against him.