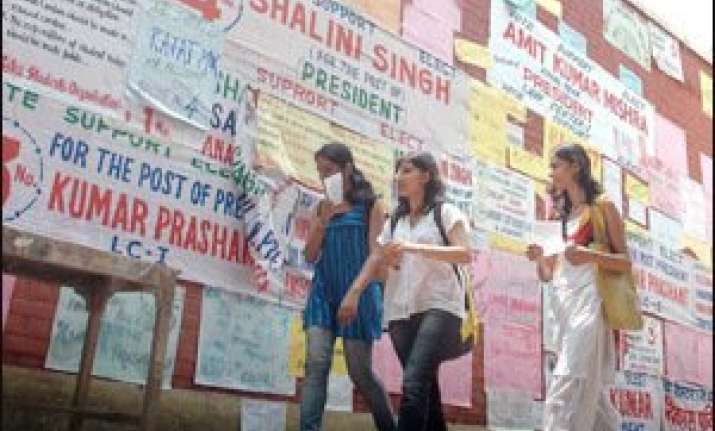 New Delhi: Although implemented with a view to keep money and muscle power away from campus elections, the Lyngdoh Committee recommendations have left youth wings of many political parties fighting the upcoming DUSU polls unhappy as they feel the expenditure limit set by it is unrealistic.
The committee headed by former Chief Election Commissioner J M Lyngdoh had in 2005 recommended a cap of Rs 5,000 on election expenses per candidate besides formulating other rules and regulations for cleaning up campus politics. In 2006, the Supreme Court had directed that these recommendations be implemented.
"The limit needs to be revised," said Amrish Ranja Pandey, spokesperson of the Congress-affiliated National Students' Union of India (NSUI).
Echoing his thoughts, Akhil Bhartiya Vidyarthi Parishad (ABVP) National Secretary Rohit Chahal said, "There are over 50 colleges to campaign in. An amount of Rs 5,000 is not sufficient to manage even the petrol expenses, forget running a full-fledged campaign."
ABVP is BJP's students' wing. It is not the spending cap alone which is a cause for dissatisfaction as some other recommendations of the Lyngdoh Committee, too, have come in from criticism from student leaders.
No printed pamphlets are allowed as per the guidelines and parties are supposed to use only handmade posters for campaigning. However, the rule has been flouted in recent elections and also during the campaigning for the upcoming students' union elections.
"Money cannot be spent, donations can't be taken, posters have to be handmade. How is this all feasible? Is it possible to have thousands of handmade posters for putting up across 50 colleges," said a student leader from All India Students' Association (AISA).
DU authorities, however, claimed that strict vigil was on to check the use of printed posters and said that anybody violating the code of conduct would be penalised.