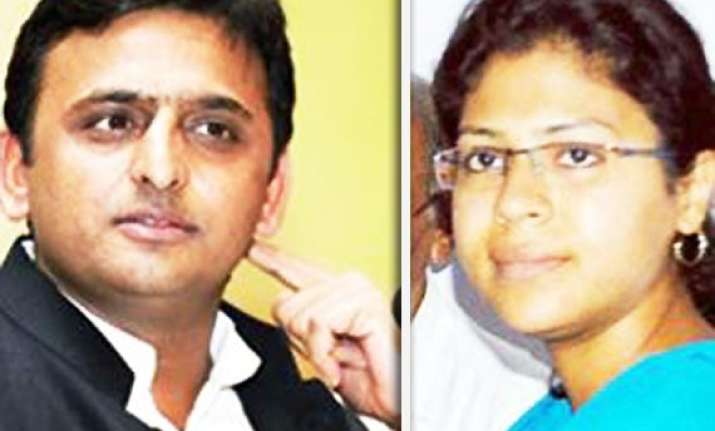 Noida/Lucknow, Aug 3: The ruling Samajwadi Party today demanded action against Noida DM Ravi Kant Singh for giving an incorrect report about the suspended SDM Durga Shakti Nagpal in the matter of demolition of a wall adjoining a mosque.
Senior minister
Azam Khan
said, the DM of Noida was equally responsible for the  demolition of the wall and action should also be taken against him.  SP MP Naresh Agrawal also called for action against the DM.  He said, Durga Nagpal may have taken action only on the advice of her superiors.
Agrawal defended party leader Narendra Bhati for boasting that he got the SDM suspended within 41 minutes.
Meanwhile, in Lucknow, Durga Shakti Nagpal met the UP chief secretary Javed Usmani and the Chief Minister's secretary Anita Singh and said she was innocent. The senior officials promised Nagpal to convey her views to chief minister Akhilesh Yadav.
Here are the excerpts from the video of the speech by  Samajwadi Party leadr and chairman of UP Agro Corporation Narendra Singh Bhati who boasted that he got SDM Durga Shakti Nagpal suspended "within 40 minutes" after she got the wall of a mosque demolished in Kadalpur village of Noida.
Addressing a rally of villagers in Noida, he said : "I was persuading this uncouth lady (behoodi mahila) but she didn't listen to me, and within 40 minutes I spoke to the CM, to Mulayam Singh ji and got her suspended."
Following are excerpts from Narendra Singh Bhati's  speech:
"I spoke to Hon'ble Mulayam Singh ji, then I spoke to Honb'e Akhilesh ji at 10:30, and at 11:10 pm, the Collector received the SDM's suspension order.  This is the power of democracy.
"I want to tell you, the lady who behaved in such an uncouth manner (behoodagi), could not sustain for 40 minutes. Means, between 10:30 and 11:11 pm in a span of 41 minutes, her suspension order was typed in Lucknow and reached the Collector here, and that lady (aurat) came to know at 11:11 pm that she had been suspended.
"I got a phone from .....in the morning. I told him you are telling me in the morning, I was told by Shamshad that the wall has been demolished and I completed my work. Don't worry, you will get the result. The moment I kept my phone, the SP rang me up saying the SDM got her suspension order at night. I got the DGP's phone. Devraj Nagar is your nighbour. I have been saying since morning that I have spoken to the DGP. I said, you have played in Dankaur, and all this happened in the school nearby. There was excess, and some action must be taken.
"If somebody does good things, he or she should be thanked, but if somebody does bad things, he or she should be punished. This is the tradition of democracy. This is the greatness of democracy. Democracy will remain alive because of this.  If I do something wrong, tell me so, but there are hundreds of ways of saying such things".