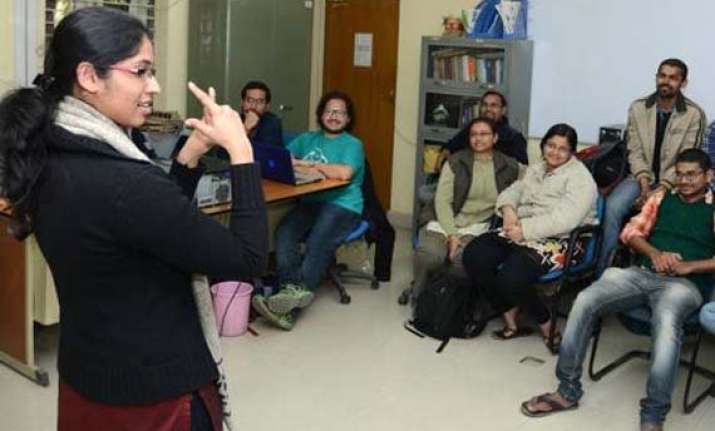 New Delhi: Delhi University is providing sign language training to nursing staff in hospitals across the national capital to help them deal with hearing impaired patients.
"The use of sign language is minimal in our country and a survey done by DU students had revealed that even visually impaired people are not aware of the proper technical language in place. They just develop their own signs for communicating according to their convenience," Hina Nandrajog, Associate Professor at DU's Cluster Innovation Centre (CIC) told PTI.  
Nandrajog, along with a team of six DU students, is working on the project in which training sessions are being conducted for nursing staff to give them basic knowledge of the sign language and how it can help in dealing with hearing impaired patients.
"It is very important for the medical staff to have the knowledge of sign language as the patients might not be able to explain themselves or about the problem they are facing. It will help in better diagnosis," she said.  "Deaf patients have to attend consultation with no communication support and rely on written notes or they have to be accompanied by someone to act as an interpretor," she added.
The training-cum-counselling programme, which began last fortnight, has so far been conducted at Hindu Rao and Kasturba hospitals.
"We have written to AIIMS and GTB hospital for the next session. Other hospitals are also being lined up. We have also compiled a hospital-specific vocabulary for training purpose," Nandrajog said.
In the first phase of the project, DU had trained over 2,000 police personnel in order to sensitise them about the problems faced by deaf in communicating with police.  The workshops were conducted in collaboration with the National Association of Deaf (NAD) and Noida Deaf Society (NDS).
"After the 10-hour module training sessions conducted at police training schools at Wazirabad and Jharoda Kalan, DCP (Police Training) Robin Hibu decided to make basic course in Indian sign language compulsory part of police training," Nandrajog said.
"DU has prepared a curriculum to be recommended to the police training wing, which will be further vetted by professionals before being formally included in the training programme," she said.
"We will be making recommendations to the Medical Council of India (MCI) too for including training of sign language in the training programme for medical professionals," she said.  The varsity has its plan chalked out for the next phase as well.
Each phase is conducted by a different team.  "We will be compiling a handbook for teaching and practice of basic crime-related sign language for redressal of grievances of deaf people.
A police team also collaborated in suggesting us the contents and suitable vocabulary," Nandrajog said, adding, "once ready, the handbook will be placed in all police stations for ready reference.
A handbook for hospitals will follow in the same manner."
Similarly, a list is being compiled of the sign language interpretors available in Delhi and across the country, whose services can be availed in police stations and hospitals when required, she said.