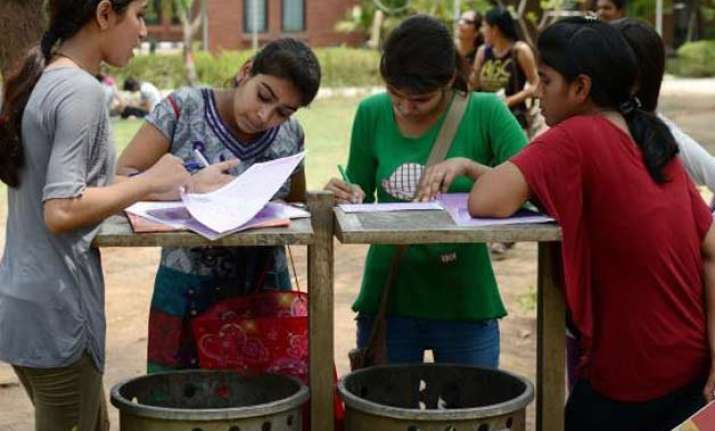 With CBSE declared class XII results on 25th May 2015, it has marked the commencement of admission season.
While the anxiety of students regarding their respective results has come to an end, now it is the time for securing a seat in DU.
The high school pass-outs who aspire to study in Delhi University have a burning question lying ahead of them.
Which one to go for - a course or a college?
Like every year, the confusion is all about whether to choose course of interest or a renowned college.
To avoid the dilemma, here we present you both aspects - whether to opt for college over course or vice-versa.
Choosing Course over College
It is very important to pursue the course of your choice, the one you have your interest in.
If you forgo a renowned college to pursue the course of your interest, then there are more possibilities of succeeding in life later.
If you let go off your favourite course just to seek admission in a renowned college, it might excite you for few months but in the long run, this decision won't help you much, as sooner or later you'll start loosing interest in the course. You may even face a situation where your overall performance starts declining. You might be dissatisfied with your career choice later on.
If you have an interest in a particular course it is easy for you to improve yourself. Success will eventually follow once you do what you like the most.  
Working hard on something you like opens up new opportunities in life. You can work hard in your favourite course, crack the exam and there is a good chance to enter a good college for PG Degree or Diploma.
Choosing College over Course
If you are opting for a technical course like engineering or management course, it is better to go for a renowned college.
In this case, the brand name, the facilities of the college and practical experience you gain there will surely count.
A good college provides a good environment, better infrastructure, extra curricular activities, high quality faculty which are extremely important for overall growth and career success.
The chances of immediate campus placement are far brighter if you opt for a renowned college.
However, be it college over course or vice versa, it is the students who shall decide which way to go. It is advisable not to take this decision under any pressure as this will give your life a new turn. Keep calm, think what you want to do and once decided just be confident for your decision.