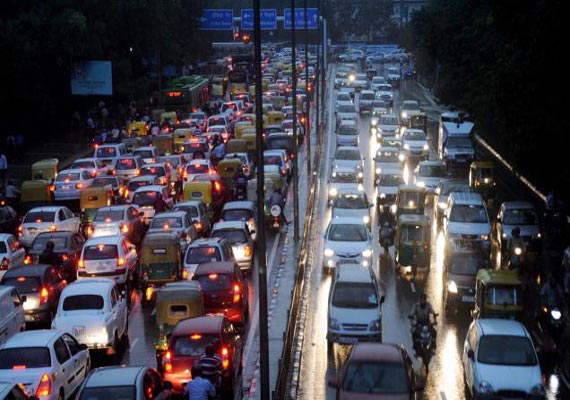 New Delhi, July 29: Heavy downpour lashed the capital Monday evening, leading to traffic chaos in streets that got flooded. The met department has forecast more rain on Tuesday.
Earlier, the capital saw a sultry day with the maximum temperature being recorded two notches above average at 36 degrees Celsius.
Heavy traffic was reported in Civil Lines, Ring Road, Dhaula Kuan and Connaught Place, which is in the heart of the capital.
"I foresee another chaos in the capital if the rain continues," said Kajal, a resident of Mayur Vihar in east Delhi.
Clogged drains, flooded roads and long traffic snarls were reported from many parts of the city.
The minimum temperature settled two notches above average at 28.8 degrees Celsius while humidity wavered between a high and low of 83 and 65 percent.
"Tuesday is also expected to be rainy and the maximum and minimum temperatures are likely to hover around 36 and 28 degrees Celsius," said an official of India Meteorological Department.
The capital had come to a halt July 20 with torrential rains exposing the unpreparedness of the Delhi government and civic authorities.