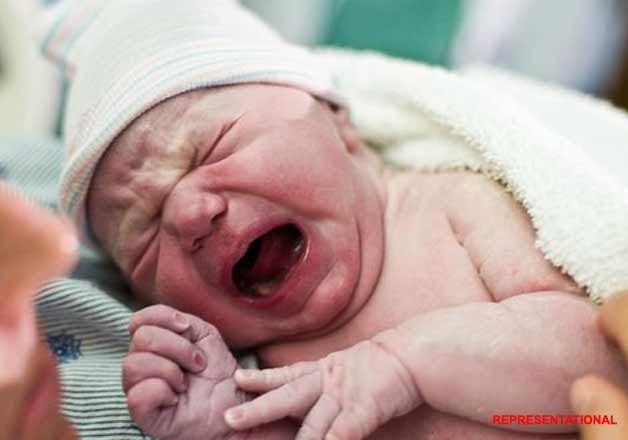 Lucknow: An appalling incident of doctors' insensitiveness has come to fore from King George's Medical University, Lucknow where a 9-day-old girl in critical condition was forcibly discharged at 1 o' clock in night.
The father of the critical newborn was given an excuse that the hospital does not have a ventilator and was told to approach a private hospital which was already under the government scanner on charges of impropriety.
The infant was born on 19th April after only 6 months of pregnancy and had been in a critical condition since then. She was admitted to the NICU (Neonatal Intensive Care Unit) of the trauma center on 20th April. Though the ventilators in the hospital were available within eight days yet the doctors continued to provide oxygen to the child with an ambu bag (a temporary provision).
On Monday night, at around 12, the child's father Ratish Mishra was called by the doctors and was told that the kid needs a ventilator and told him to go to Charak Hospital. The distressed father pleaded to the doctors to give him time till the subsequent morning but the doctors did not budge. They continued to tell him to go to Charak Hospital and gave him the contact number.
A week before only, four doctors of Charak Hospital were detained by the State Health Minister Ahmed Hasan on inspection of a report. KGMU doctors, fully aware of this, still forced Mishra to go to that hospital only.
When the distraught relatives of the critical newborn asked for the discharge slip and treatment file, they were denied that also though as per law this is a right of any patient undergoing a treatment in any hospital.
The father even said that he can ask some senior doctor to intervene but no heed was paid to his request.
When the incident came into limelight, the Vice-Chancellor of KGMU, Professor Ravikant said that the incident of sending a patient to the private hospital or diagnostic center will be investigated and if any such thing has happened then a report will be demanded from the Incharge of Trauma Center, Dr. Shankhvar.
UP Chief Minister Akhilesh Yadav also expressed his unhappiness over the incident and said that doctors should mind their own business and should not behave arrogantly with  patients.
He warned that  government will take strict actions against such doctors and requested  media not to protect such doctors.