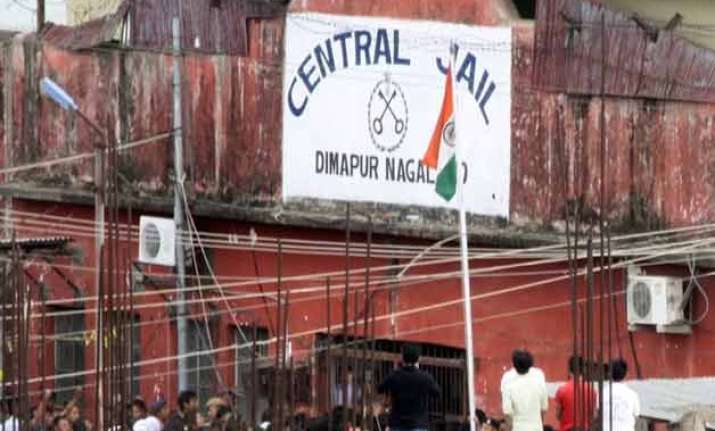 Dimapur: A report by a senior Dimapur Central Jail official has revealed that the March 5 mob had encouraged prisoners to escape and that two insurgents had managed to flee in the chaos.
The two insurgents were held under the stringent National Security Act. They belonged to the National Socialist Council of Nagaland (Isak-Muviah) - an insurgent outfit that controls parts of the state and is presently on a ceasefire agreement with the Centre.
ALSO READ: Dimapur lynching: Ex-inmate led mob to rape accused in jail
The report, filed by Dimapur Central Jail's Senior Superintendent B Chuba Phom - a day after the incident took place, further stated that the mob had hours to carry out a methodical search to locate the rape-accused man.
Phom, who has since then been suspended, also questioned the Nagaland government's claims that it could not prevent the storming of the prison as it had been sudden.
Agitators, estimated to be 9,000, had broken into the jail on March 5 and dragged rape accused Syed Sharif Khan outside the jail premises. He was paraded naked, then beaten and stoned to death by the mob.
"In the later part of the evening, since no reinforcement of the security personnel came to restrain the frenzy agitators (sic) and to rescue and provide safe and enough security to the Jail, the agitators had ample opportunity to frisk the entire Jail building and its premises and at last located the main accused," NDTV reported while referring to the findings of Phom.
According to Phom's report, officials of the district administration, police and state government were informed as early as 11:30 am that the mob outside the jail intended to storm the prison to drag out Syed.
Reinforcements did arrive by noon, but proved insufficient to hold the crowd out of the prison compound. Also, no further deployment of security forces had happened till 4:30 pm when the mob finally found the rape-accused man, it said.
Also the security personnel, who were present, were also restrained by their commanders from opening fire, it added.