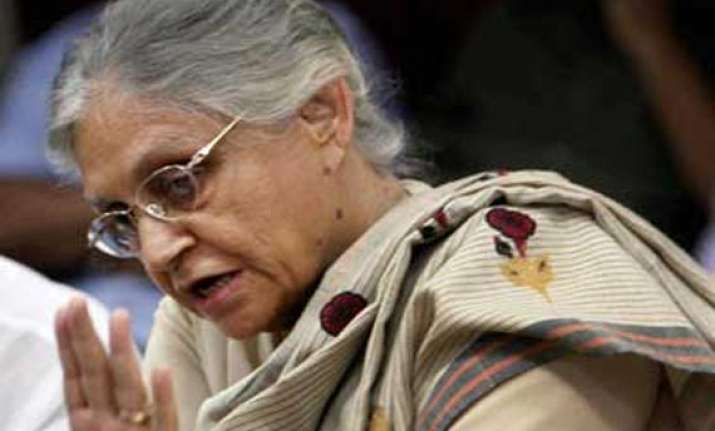 New Delhi : Seeking to cash in on the development plank, Delhi Chief Minister Sheila Dikshit yesterday launched her party's campaign from New Delhi constituency, citing the progress the national capital has made in health care, education and other sectors during the Congress tenure.
Exhorting people to vote Congress to power for the third time, Dikshit launched the campaign from Pilanji village in Sarojini Nagar area.
"Our government has been working for the last 15 years and there has not been any single blot on it. The government concentrated on development and prosperity and succeeded in changing the image of the city," the chief minister said.
Recounting the achievements of her government, Dikshit claimed, "The per capita income in Delhi Rs 2.01 lakh is the highest in the country. The government had commissioned the best higher educational institutions including state level universities, world-class specialized hospitals apart from providing infrastructure matching to international standards."
Taking a dig at the opposition, Dikshit said the BJP during its five year rule from 1993 to 1998 changed three chief ministers which paralyzed the administration.
"It is for the people to decide whether they want a stable government or a government which goes on changing chief ministers after every six months in order to fulfill the wishes all the claimants," she said.
Terming the claims of BJP and AAP of reducing power tariffs by 30 per cent as "baseless and impractical," Dikshit urged people not to be carried away by their hollow promises.
"In order to bring reduction by 30 per cent one would be forced to curtail power supply by the same percentage. It is for the people to decide whether they want illuminated Delhi or pitch darkness in the Capital city. The day tariff was hiked government swung into action to enhance subsidy," Dikshit said.
She assured that her party's governments in Delhi and at the Centre are sensitive to the needs of people.
"The government at Centre has decided to set up the Seventh Pay Commission overlooking the recommendations of the Sixth Pay Commission not to set up any commission any future.  The Seventh Pay Commission would benefit 80 lakh in service and retired employees including large number of employees living in New Delhi assembly segment," Dikshit added.