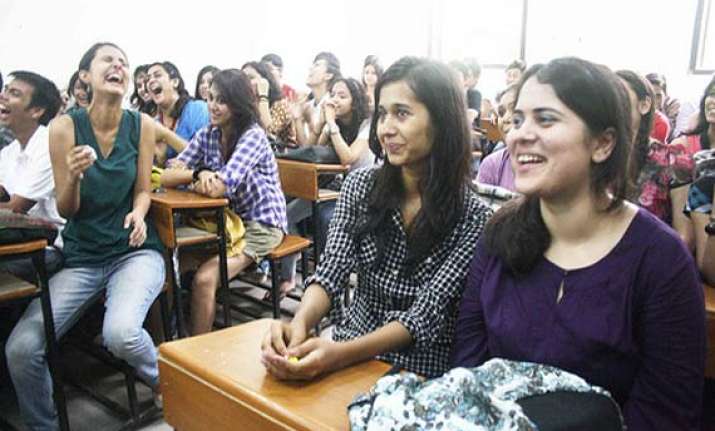 New Delhi: Orientation classes, course briefings and traditional welcome marked the beginning of the new academic calender for freshers and students of Delhi University yesterday.
Fresh out of school, students were accorded warm welcome by their seniors, faculty members and members of various student unions.
The new academic session 2014-15 marks a transition as it commenced after the recent scrapping of the Four Year Undergraduate Programme (FYUP).
Orientation classes, which briefed the students about courses, class schedules and university rules and regulations, were held across colleges.
While many colleges restricted these classes only to students there were few like the Hindu College, which allowed parents to participate in the orientation lectures.  
"It was a good experience. Everyone was welcoming and warm-hearted," said Vrinda Sethi, a first-year student, pursuing History (Hons) from Gargi College.  
As the freshers seemed excited with the reception they received, the second-year students who were admitted under FYUP and now transferred into the three-year programme seemed relaxed but curious about their academic future.  
"A lot of students came to attend their classes but not many classes were running. There were teachers holding normal communication but there was hardly any studies today," said Arnav Jain, a second year student at the Hansraj College.  
Many second-year students also complained that there was no communication regarding restructuring of the FYUP course, which they were admitted under earlier.  
Student unions too welcomed the new students across all colleges of the university with their members assisting the new entrants by providing necessary information to them.  
"We welcomed them with a traditional 'teeka'. Our activists also distributed sweets among students," ABVP Delhi State Secretary Saket Bahuguna said.
ABVP has also formed an anti-ragging squad of their own to deal with any incidents of ragging, Bahuguna said.  'Arunoday', the ABVP cell specially formed for students from north-eastern parts of the country, was also at work guiding and informing students with all the information.  
"We welcomed the students with flowers and chocolates. We tried to co-ordinate between students and teachers to minimise confusion regarding various issues that troubled them, NSUI national spokesperson Amrish Pandey said.  
Around 2.7 lakh applicants had applied for admission in academic session 2014-15 in Delhi University for 54,000 seats in 61 affiliated colleges.