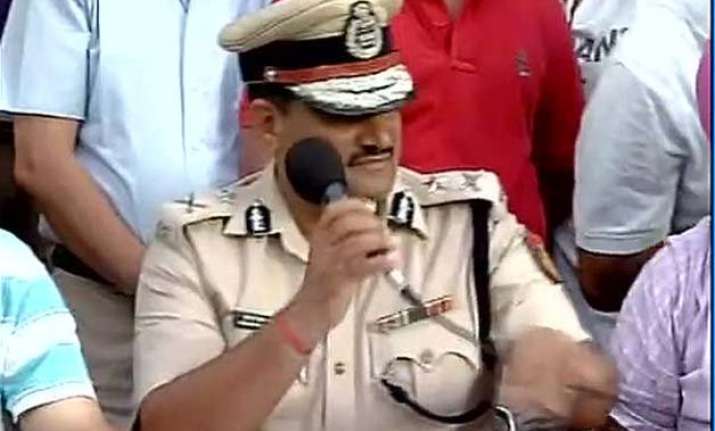 New Delhi: Delhi Police today expressed regret to agitating ex-servicemen for trying to forcefully remove them from protest site near Jantar Mantar on August 14.
Joint Commissioner of Delhi Police MK Meena today visited the protest site and apologised to the ex-servicemen for the inconvenience caused to them by the police action.
"What happened on 14th August was due to some confusion & misunderstanding, we are with you", said Meena to Ex-servicemen
"I want to speak on behalf of Delhi police that we have full respect for Army servicemen & Ex-servicemen", he added.
Retired army personnel also extended their welcome to Meena.
"Aap yahan aaye aur humse kaha ki aage se ye nhi hoga, hum aapko dhanyavaad dete hain (You came here and promised us that it won't happen again, we thank you for that)," Major Gen (retd) Satbir Singh said to Meena.
Meanwhile, a third veteran today joined the fast-unto-death by ex-servicemen as part of the agitation.
"Havildar Ashok Chauhan has also gone on fast-unto-death in support of OROP. Those at Jantar Mantar have tried to dissuade him, but he is not relenting," Col Anil Kaul (Retd), media advisor to United Front of Ex-Servicemen (UFESM), said on the second day of the hunger strike.
Retired armymen have been protesting for over two months demanding to implement One-Rank-One-Pension scheme.
Police and civic body officials tried to forcefully evacuate them from Jantar Mantar on August 14, citing security reasons for Independence Day preparations.
Stepping up agitation on OROP, a fast-unto-death was launched by two of the protesting ex-servicemen at Jantar Mantar on August 17, two days after Prime Minister Narendra Modi failed to promise a timeline in his Independence Day speech.
All efforts to persuade Havildar Major Singh and Colonel Pushpender Singh not to fast unto death failed yesterday.
Prime Minister's Office today decided to step in to resolve the issue. PM Modi's Principal Secretary Nripendra Misra will negotiate on the issue of OROP with the veterans.
According to sources, PM Narendra Modi may meet protesting ex-servicemen either on August 24 or 25.