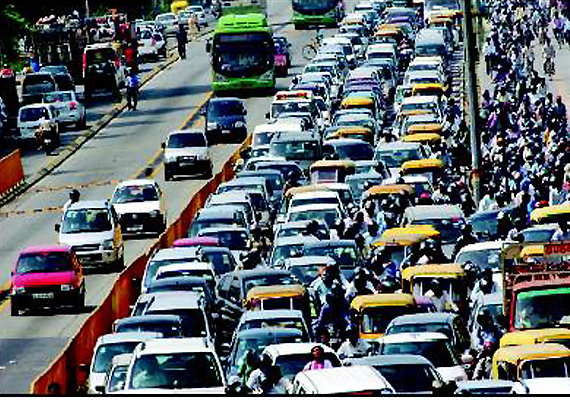 New Delhi, Oct 18:  The Delhi High Court Thursday dismissed a plea seeking to scrap the traffic arrangement on the 5.8 km Ambedkar Nagar-Moolchand BRT corridor in south Delhi.
A division bench of Justices Pradeep Nandrajog and Manmohan Singh rejected an NGO's plea seeking permission for cars to use a road lane reserved for buses on the bus rapid transit (BRT) corridor here.
The court had Sep 24 reserved the order after all the parties concluded their arguments on a plea.
NGO Nyaya Bhoomi's president B.B. Sharan alleged that the corridor was causing inconvenience to the public.
Sharan had referred to a survey report of the Central Road Research Institute (CRRI) on the functioning of the BRT and sought its scrapping on the ground that it was harassing commuters and was a complete waste of public money.
However, during the hearing the city government had defended the BRT system and criticised the CRRI report terming it "unconstitutional" and "irrational" as it ignored the rights of bus commuters.
The CRRI in its report, prepared after trial runs on the corridor as directed by the court, suggested that "NO BRT" option yielded better benefits for this corridor with the given traffic conditions.
The petition filed by the NGO said that the reserved bus lane remained mostly empty while the other lanes, meant for cars and other vehicles, were chaotic with people stuck for hours in jams.
The petition sought the court's direction to the Delhi government to allow cars to run on the corridor lane, reserved for buses, during non-peak hours.
The 5.8 km BRT corridor -- between Moolchand and Ambedkar Nagar in south Delhi -- was introduced in 2008 to make bus travel safer and faster, and encourage travel that did not involve cars.