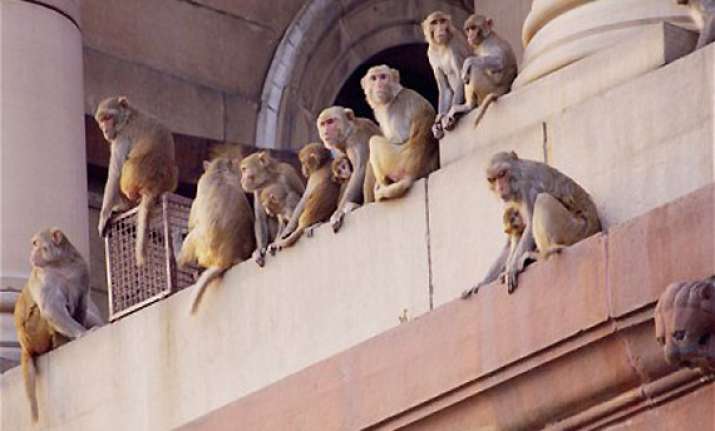 New Delhi: Delhi Government's forest department has spent a whopping Rs. six crore to feed over 16,000 monkeys at the Asola Bhatti Wildlife Sanctuary in South Delhi in the last six years.
Top officials in the department said currently it has been spending around Rs. 14 lakh per month on food for the monkeys.
Chief Conservator of Forest AK Shukla said the department has been feeding the monkeys since 2007-08 following a directive from the Delhi High Court.
"Currently the sanctuary has 16,400 monkeys and we are spending around Rs. 75 to feed per monkey per month," he said.
He said the department procures the fruits and vegetables for the monkeys from the Azadpur wholesale market.
"On an average 2,500 kg fruits and vegetables and 100 kg chana from Kendriya Bhandar are fed to these monkeys," Shukla explained.
He said "tendering is not done on perishable items as their prices vary on day-to-day basis".
Asked how transparency is maintained on procurement of the food items, he said the trucks carrying the food articles are weighed at the point of delivery.
"There is no discretion as quantity of the fruits and vegetables to be offered to the monkeys is fixed," Shukla explained.
"Check on quantity and quality is carried out on daily basis at field level and periodically at divisional level," Shukla said.
He added that Asola has 23 water bodies and more than two lakh fruit bearing trees.
The expenditure incurred on feeding the monkeys in 007-08 was Rs. 13.01 lakh while it went up to Rs. 1.19 crore in 2008-09.
In 2009-10, the expenses was Rs. 13.01 lakh while in 2010-11 it was Rs. 1.27 crore. In 2011-12, the figure was Rs. 1.39 crore and in 2012-13 an expenditure of Rs. 1.50 crore was incurred.
Another official said the department was examining the issue of further streamlining the procurement procedure.