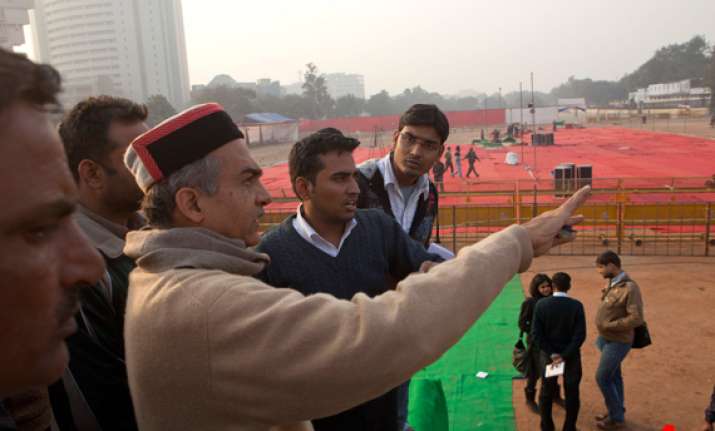 New Delhi, Dec 27: It was a delayed start for Team Anna's protest here to express solidarity with Anna Hazare's fast against a "weak" Lokpal Bill in Mumbai with winter chill keeping crowds away from the Ramlila Maidan this morning.

The protest was scheduled to start at 10 AM but the crowd was not as huge as witnessed during the earlier agitation when Hazare was present.

The leader of the protest Shanti Bhushan himself came to the podium at 10:30 AM though another Team Anna member and his son Prashant Bhushan was at the venue before explaining to media persons about the protest and the delayed start.

 The senior Bhushan sat alone at the dais as music was played.

Hazare was supposed to sit on a fast here but the venue was changed taking into consideration the weather in the capital. The activist is staging a three-day fast in Mumbai.

 Though initially the number of protesters were low, the pace slowly picked up as the day progressed.  Prashant blamed the chilly and foggy weather for the low turnout in the morning.

"I am sure people will come here as well. It is a cold day, foggy day today. It will take sometime for people to turn up. They will come, don't worry," Prashant told reporters here.

Explaining the need for protest, he said the Bill in its present form is unacceptable. Protest will continue as well as jail bharo agitation, he added.

"Government thinks it can do what it wants and not take people's view into consideration. How can it call itself a participatory democracy then?" he said.

Bhushan said the question was about the future of country's participatory democracy.

"The Bill requires amendments. The main aim of the protest is to spread awareness about the ineffectiveness of the bill," he said, adding the government has presented a "distorted" image of democracy.

"The present form of the bill promotes corruption and not curb it," he added.