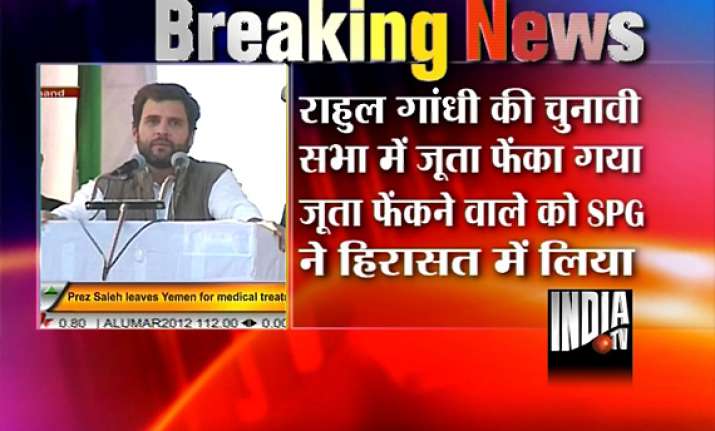 Dehradun, Jan 23: Kuldip, a 22-year-old small-time shopkeeper, today threw a shoe at Congress general secretary Rahul Gandhi at his election rally in Vikas Nagar, several km away from Dehradun.

Kuldip shouted a slogan about black money, and threw the shoe, provoking Rahul Gandhi to first say "Thank You" and then challenged him to "throw another shoe".

As SPG commandos and securitymen whisked Kuldip away, Rahul Gandhi appealed to the police not to bash up the youth.

Kuldip, son of Hari Singh, runs a small shop in Khera Pachhwa. He wanted Rahul Gandhi to speak about black money and the various scams at the Centre.

Rahul Gandhi was mentioning the scams that took place in Uttarakhand during the tenure of former BJP chief minister Ramesh Pokhriyal, and said Khanduri has been brought in as chief minister to shield "the thieves".

In Delhi, Congress spokesperson Rashid Alvi and minister of state for Parliamentary Affairs Rajiv Shukla condemned the shoe-throwing incident.

Alvi alleged that BJP was 'instigating' its supporters to carry out such acts. Shukla called for consensus among all major political parties to dissuade their supporters from indulging in such condemnable acts.