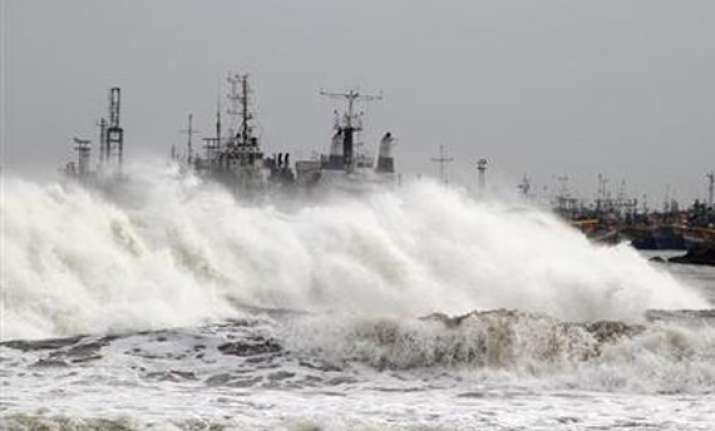 Bhubaneswar/Visakhapatnam: The Very Severe Cyclonic Storm 'Hudhud' lay centred about 380 km south southeast of Visakhapatnam on Saturday morning, and is likely to make landfall by Sunday noon.
Indian Meteorological Deparment said today that the cyclone is gathering speed and it can go up to 180 to 230 km per hour at landfall.
Tens of thousands of people from low-lying areas of coastal districts of Andhra Pradesh have
been evacuated as the state intensified preparations to face Cyclone Hudhud, expected to reach the northern coastline around Visakhapatnam by forenoon on Sunday.
As many as 24,000 people were shifted from Visakhapatnam district, 15,000 from Vizianagaram and 46,000 from Srikakulam and 160 from East Godavari district so far, special commissioner, state disaster management authority, K Hymavathi said.
She said that 146 cyclone relief shelters have been opened in the coastal districts.
National Disaster Response Force has deployed 19 teams (each comprising 45 to 50 members) to undertake rescue and relief missions.
In addition, a large number of Army personnel have also been kept ready in Visakhapatnam.
In Srikakulam, sea conditions were rough this morning.  Met department has warned that extensive damage to 'kutcha' houses, uprooting of big trees and partial disruption of power and communication lines and minor disruption of rail and road traffic are expected.
"The government machinery is ready to face the cyclonic storm," said deputy chief minister K E Krishna Murthy.
Eastern Naval Command of the Indian Navy too is ready to help with four ships on stand-by. These ships have been equipped with additional divers, doctors, inflatable rubber boats, integral helicopters and relief material including food, tentage, clothes, medicines, blankets etc, in quantities sufficient to sustain over 5,000 persons, Navy sources said.
Six aircraft are standing by at the Naval Air Station INS Dega to undertake reconnaissance, rescue, casualty evacuation and air drop of relief materials.
Additionally, 30 diving teams and four platoons with additional relief material are ready to be pressed into action at short notice, sources said.

Under the influence of the system, rainfall, at most places heavy (6.5 - 12.4 cm) to very heavy (12.5 - 24.4 cm) at a few places and isolated extremely heavy (24.5 cm) would occur over west & east Godavari, Visakhapatnam, Vizianagaram and Srikakulam districts of north Andhra Pradesh and Ganjam, Gajapati, Koraput, Rayagada, Nabarangpur, Malkangiri, Kalahandi and Phulbani districts of south Odisha during the next 48 hours, Met department said.
Rainfall would also occur at most places, with heavy to very heavy rainfall at isolated places, over Krishna, Guntur and Prakasham districts of Andhra Pradesh and north coastal Odisha during the same period.
Squally winds, with speed reaching 50-60 kmph and gusting to 70 kmph at some places would prevail along and off north Andhra Pradesh and south Odisha coasts during the next 12 hours.
The wind speed would gradually increase to 140-150 kmph gusting to 165 kmph around the time of landfall along & off north Andhra Pradesh (East Godavari, Visakhapatnam, Vizianagaram and Srikakulam districts) and 80-90 kmph along and off adjoining districts of south Andhra Pradesh (West Godavari, Krishna districts) and south Odisha (Ganjam, Gajapati, Koraput and Malkangiri districts).