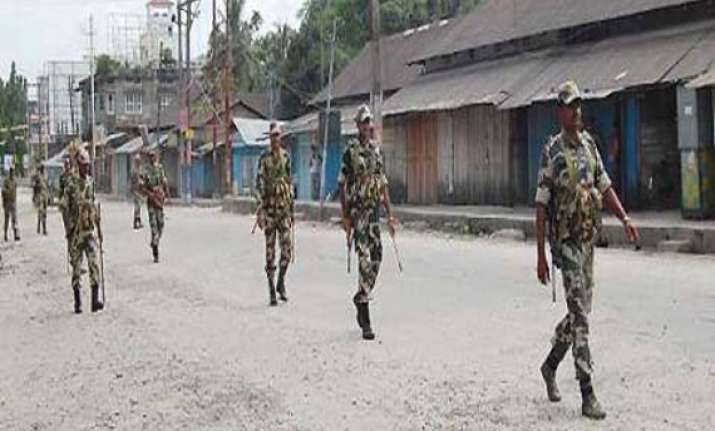 Guwahati, Nov 16 : Curfew continued on Friday in Kokrajhar area of Assam's Bodoland Territorial Area Districts (BTAD), where violence has claimed the lives of six people since last week.
The army, which has been called in to help police in containing the law and order situation, has been carrying out flag marches at all the sensitive places in the district - particularly in and around Kokrajhar town and in areas under the Gosaigaon subdivision in the district.
No incidents had been reported from anywhere in the district in the last 24 hours. However, curfew was still in force in the district as a precautionary measure, inspector general of police (law and order) SN Singh said.
Assam director general of police Jayanta Narayan Choudhury also reviewed the situation. State industry and commerce minister Pradyut Bordoloi and senior officials were expected to visit the region.
Prime Minister Manmohan Singh had called up Assam chief minister Tarun Gogoi late Thursday over the situation in BTAD and assured him of all possible help in containing the situation.
Tension had escalated on Thursday with suspected cadres of the anti-talk faction of the Bodo militant outfit National Democratic Front of Bodoland (NDFB) injuring one person at the weekly market in Kokrajhar town. Suspected militants also gunned down a man called Nirisan Basumatary at Telipara under Gosaigaon subdivision.
Gogoi had indicated that the anti-talk faction of the Bodo militant outfit National Democratic Front of Bodoland (NDFB) was behind the incidents of violence.
IGP Singh said five columns of the army had been deployed - two in Kokrajhar and three in Gosaigaon subdivision - and additional central paramilitary forces were also moving into the district.
"Police have arrested 37 people so far and detained some more for their alleged involvement in the violence," he said.
Security forces in the area, he said, had also been searching for illegal arms and ammunition belonging to former militants in Kokrajhar and other BTAD areas. A total of 70 pieces of arms had been recovered since July this year.
In July and August this year, clashes between the Bodos and Bengali-speaking Muslims in BTAD had led to over 100 people being killed and close to 500,000 being displaced in Kokrajhar, Chirang and Dhubri districts.