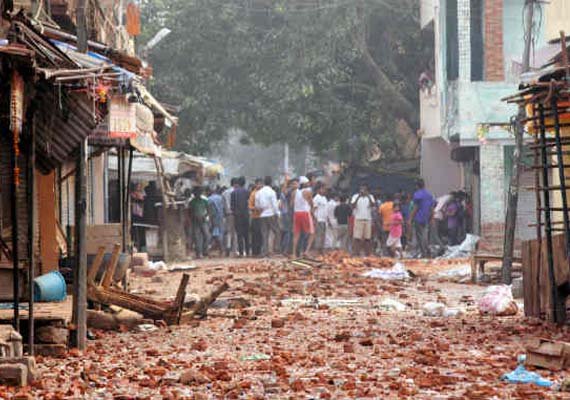 New Delhi: Orders prohibiting any gathering and movement of large groups in the riot-hit Trilokpuri area of Delhi were relaxed Friday for 13 hours, police said, adding that permission to organise a religious programme in the area has been granted.
The prohibitory order were relaxed from 6 a.m. to 7 p.m. Friday. "And if everything goes well, we might extend it further," Joint Commissioner of Police Sanjay Beniwal told IANS.
The police have also permitted the residents of Block 20 to organise a 'jagran' - a night-long religious gathering - in their neighbourhood Friday evening.
"We have permitted them to organise the programme. We will closely monitor the area and the required force will be in place to prevent any untoward incident," Beniwal said.
Two groups of Hindus and Muslims clashed on Diwali Oct 23 after which the authorities imposed prohibitory orders banning gatherings and movements of people.
Police Thursday relaxed the restrictions for 11 hours. Many shops opened, but schools and government offices in the area remained closed.
Police also organised a community meeting Thursday evening in the four most affected blocks - 15, 21, 27 and 28 - of the east Delhi locality. Residents sang the national anthem in the presence of leaders from both the communities. Senior police officers were also present.
Police will start four separate groups for these blocks on WhatsApp where residents can interact directly with police officers.
"We will select around 35 people from each block who will be part of a group along with junior and senior police officers. The locals can talk directly to police in these groups," Beniwal said.
Police Wednesday relaxed the prohibitory orders for six hours during Chhath Puja. So far, 68 people have been arrested for the clashes.
Trilokpuri, divided into 36 blocks, is being manned by over 1,000 security personnel from Delhi Police, Rapid Action Force and Central Reserve Police Force along with over 30 police vans, water cannons and riot control vehicles.