Follow us on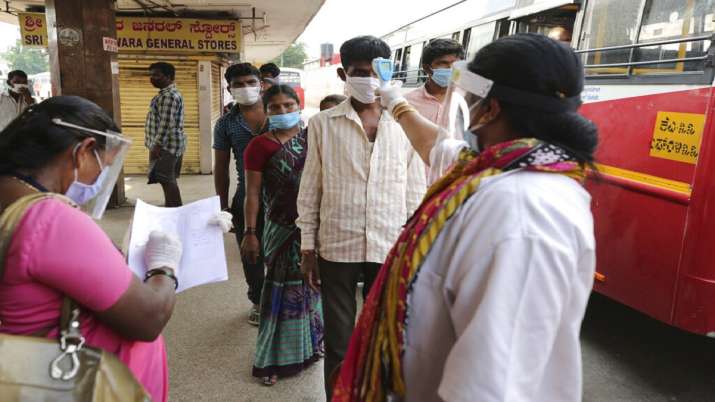 Coronavirus cases in India have crossed 56,000-mark taking positive patients toll to 56,342 including 1,886 deaths while 16,540 have recovered, according to the health ministry's figures released on Friday. In the last one week, the country has witnessed a sharp increase in the COVID-19 cases as the rate of average cases surged. India is under the third extended lockdown period which was extended on May 1, effective from May 4 and will remain in place till May 17 to slowdown the speed of coronavirus spread.
Maharashtra, Delhi, Gujarat, Rajasthan, Madhya Pradesh are the worst hit states in the country with the first two having cases above 16,000 and 5,000 respectively. Mumbai, Indore, Ahmedabad, Agra are the worst hit districts having maximum number of COVID-19 cases.
However, in the present extended phase of the lockdown, the government has given some restrictions like opening of non-essential item shop, allowing e-com to deliver non-essential items depending in which zone they are delivery, opening of liquor shops, and other relaxations. But areas falling under red zones including all metro cities have still lockdown restrictions strictly in place.
State-wise COVID-19 cases, deaths in India
| Name of State / UT | Total Confirmed cases (Including 111 foreign Nationals) | Cured | Deaths ( more than 70% cases due to comorbidities ) |
| --- | --- | --- | --- |
| Andaman and Nicobar Islands | 33 | 33 | 0 |
| Andhra Pradesh | 1847 | 780 | 38 |
| Arunachal Pradesh | 1 | 1 | 0 |
| Assam | 54 | 34 | 1 |
| Bihar | 550 | 246 | 5 |
| Chandigarh | 135 | 21 | 1 |
| Chhattisgarh | 59 | 38 | 0 |
| Dadar Nagar Haveli | 1 | 0 | 0 |
| Delhi | 5980 | 1931 | 66 |
| Goa | 7 | 7 | 0 |
| Gujarat | 7012 | 1709 | 425 |
| Haryana | 625 | 260 | 7 |
| Himachal Pradesh | 46 | 38 | 2 |
| Jammu and Kashmir | 793 | 335 | 9 |
| Jharkhand | 132 | 41 | 3 |
| Karnataka | 705 | 366 | 30 |
| Kerala | 503 | 474 | 4 |
| Ladakh | 42 | 17 | 0 |
| Madhya Pradesh | 3252 | 1231 | 193 |
| Maharashtra | 17974 | 3301 | 694 |
| Manipur | 2 | 2 | 0 |
| Meghalaya | 12 | 10 | 1 |
| Mizoram | 1 | 0 | 0 |
| Odisha | 219 | 62 | 2 |
| Puducherry | 9 | 6 | 0 |
| Punjab | 1644 | 149 | 28 |
| Rajasthan | 3427 | 1596 | 97 |
| Tamil Nadu | 5409 | 1547 | 37 |
| Telengana | 1123 | 650 | 29 |
| Tripura | 65 | 2 | 0 |
| Uttarakhand | 61 | 39 | 1 |
| Uttar Pradesh | 3071 | 1250 | 62 |
| West Bengal | 1548 | 364 | 151 |
| Total number of confirmed cases in India | 56342* | 16540 | 1886 |
ALSO READ | Tripura: 24 BSF jawans test coronavirus positive; state tally at 88
ALSO READ | Bhopal reports 46 new coronavirus cases; highest single-day spike so far